DNA Sequencing Sample Submission Guidelines
Sample preparation guidelines
We accept PCR products (purified or unpurified), and plasmid DNA samples, and bacterial colonies or glycerol stocks.
To ensure optimum template concentration, we suggest you determine the concentration of your template DNA prior to shipment.
For unpurified PCR products, run an agarose gel to make sure there is a clear single band.
Please prepare your DNA samples by following the below concentration and volume. If you choose using GenScript Standard primers, we will add the primer for you.
Template and primer sent separately
(Provide primers in separate tubes without mixed with templates, provide templates only if choose GenScript Standard primers.)
| Template | Concentration | Volume / RXN |
| --- | --- | --- |
| Plasmid < 6 kbp | 100+ ng/μl | 15 μl |
| Plasmid 6-15 kbp | 200+ ng/μl | 15 μl |
| Plasmid ≥ 15 kbp | 300 ng/μl | 15 μl |
| PCR products | ~30 ng/μl | 15 μl |
| Primer | 5-10 μM | 10 μl |
Premixed template and primer
(Mix template and your primer in a single tube for each reaction by following the table below.)
Template

Size

Template Concentration

Template Volume

Total Amount of Template

Primer Amount

Total Volume

Plasmid
<6 kb
100 ng/μl
10 μl
~1000 ng
25-50 pmoles
15 μl
6-15 kb
200 ng/μl
10 μl
~2000 ng
≥15 kb
300 ng/μl
10 μl
~3000 ng
Purified PCR Products
<1 kb
5 ng/μl
10 μl
~50 ng
25-50 pmoles
15 μl
1-2 kb
10 ng/μl
10 μl
~100 ng
2-4 kb
20 ng/μl
10 μl
~200 ng
Shipping guidelines
All DNA samples, including templates and primers, should be submitted in the following formats: 1.5~2.0 ml EP tubes, 8-strip tubes or 96 well PCR plates.
GenScript recommends using 8-stripe PCR tubes for sample submission.
Seal the tubes and plates to prevent leakage, sample evaporation and cross-well contamination. GenScript recommends using strip caps to seal plates. GenScript is not responsible for leakage or damage of samples during shipment.
Please label your Samples/Plates/Primer Name clearly on the Tubes/Plates as follows in the illustrations below. For strip tubes, must at least label the first and last one. (Please keep samples in the same order in strip tube as in your order submission). For plates, arrange your samples vertically (in columns) and DO NOT leave empty wells in between.
For bacterial samples, please also label the antibiotics and preferred culture conditions.
If you have requested a FedEx shipping label with your order, it will be sent to you by email after you confirm the order, please print it out and place onto your sample shipping envelope.
Please enclose the order summary with order ID in your shipment to avoid delay of your orders. If you don't have the order ID when preparing the shipment for any reason, please enclose the quote ID or account ID, however, all shipment without order ID may be delayed.
For more information, please check GenScript DNA Sequencing Service FAQ.

Quotations and Ordering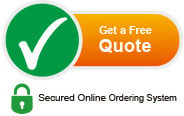 For quotation requests and questions, contact us by phone, email, fax, via our secured online quotation system or submit your sequencing worksheets.
Orders can be placed by phone, email, fax or online with a formal PO (Purchase Order) or credit card.
Please send your samples together with a hard copy of the completed order summary to DNA Sequencing Service, GenScript, 860 Centennial Ave., Piscataway, NJ 08854, U.S.
Our customer service representatives are available 24 hours a day, Monday through Friday; please contact us anytime for assistance.