DNA Sequencing Standard Primers
GenScript offers FREE Standard Primers for DNA sequencing.
Primer Name

Sequence

5'AD
5'- AGG GAT GTT TAA TAC CAC TAC -3'
3'AD
5'- AGA TGG TGC ACG ATG CAC AG -3'
5AOX1
5'- GAC TGG TTC CAA TTG ACA AGC -3'
3AOX1
5'- GCA AAT GGC ATT CTG ACA TCC -3'
A-FACTOR
5′-TAC TAT TGC CAG CAT TGC TGC -3'
3'BD
5'- TAA GAG TCA CTT TAA AAT TTG TAT C -3'
CMV-Forward
5'- CGC AAA TGG GCG GTA GGC GTG -3'
CMV-R
5'- GTT CAC GGT GCC CTC C -3'
PGEX-5'
5'- GGG CTG GCA AGC CAC GTT TGG TG -3'
PGEX-3'
5'- CCG GGA GCT GCA TGT GTC AGA GG -3'
T3
5'- ATT AAC CCT CAC TAA AGG GA -3'
T7
5'- TAA TAC GAC TCA CTA TAG GG -3'
T7-Ter
5'- GCT AGT TAT TGC TCA GCG G -3'
BGH
5'- TAG AAG GCA CAG TCG AGG -3'
SP6
5'- GAT TTA GGT GAC ACT ATA G -3'
M13F
5'- TGT AAA ACG ACG GCC AGT -3'
M13R
5'- CAG GAA ACA GCT ATG AC -3'
M13F(-47)
5'- CGC CAG GGT TTT CCC AGT CAC GAC -3'
M13R(-48)
5'- AGC GGA TAA CAA TTT CAC ACA GGA -3'
GLP1
5'- TGT ATC TTA TGG TAC TGT AAC TG -3'
GLP2
5'- CTT TAT GTT TTT GGC GTC TTC CA -3'
pBAD Forward
5'- ATG CCA TAG CAT TTT TAT CC -3'
pBAD Reverse
5'- GAT TTA ATC TGT ATC AGG -3'
pEGFP-N-5'
5'- TGG GAG GTC TAT ATA AGC AGA G -3'
pEGFP-N-3'
5'- CGT CGC CGT CCA GCT CGA CCA G -3'
pEGFP-C-5'
5'- CAT GGT CCT GCT GGA GTT CGT G -3'
pEGFP-C-3'
5'- TAT GGC TGA TTA TGA TCA GT -3'
pFastBacF
5'- GGA TTA TTC ATA CCG TCC CA -3'
pFastBacR
5'- CAA ATG TGG TAT GGC TGA TT -3'
RVP3
5'- CTA GCA AAA TAG GCT GTC CC -3'
RVP4
5'- GAC GAT AGT CAT GCC CCG CG -3'
PMAL-C2X-F
5'- TGC GTA CTG CGG TGA TCA AC -3'
PMAL-C2X-R
5'- CTG CAA GGC GAT TAA GTT GG -3'
PQE30F
5′- TGA GCG GAT AAC AAT TTC AC-3'
PQE30R
5′- GTT CTG AGG TCA TTA CTG G-3'
S.TAG
5-CGAACGCCAGCACATGGACA-3'
Quotations and Ordering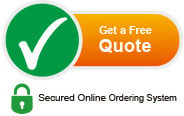 For quotation requests and questions, contact us by phone, email, fax, via our secured online quotation system or submit your sequencing worksheets.
Orders can be placed by phone, email, fax or online with a formal PO (Purchase Order) or credit card.
Please send your samples together with a hard copy of the completed order summary to DNA Sequencing Service, GenScript, 860 Centennial Ave., Piscataway, NJ 08854, U.S.
Our customer service representatives are available 24 hours a day, Monday through Friday; please contact us anytime for assistance.