GenScript's ScFv Generation Service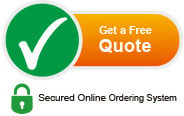 GenScript's single chain variable fragment (ScFv) generation service includes fully custom ScFv generation in both mouse and rabbit. The service itself combines GenScript's highly trusted hybridoma technology with our top notch antibody sequencing and recombinant antibody expression platforms to generate high specificity ScFvs. Our ScFv generation service also includes immunization with a variety of antigens as well as multiple delivery options to ensure high quality performance in any and all applications!
Hybridoma Based Rabbit
ScFv Generation

Combining Hybridoma and Recombinant Technology

Multiple Delivery Methods

Delivery of ScFv Sequence, Plasmid, and Purified ScFv

Tailored Antigen Generation

Choose from Protein or DNA Immunization with Over Expressing Cell Line
Antibody Generation at its Best
Learn why hybridoma technology is preferred for high quality antibody generation, and see how it compares to other antibody generation methods!
Free white paper download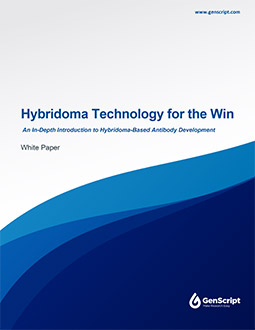 Overview of GenScript's ScFv Packages
Species
Immunogen
QC
TAT
Deliverables
Rabbit (2-4)
Protein (GenScript Generated or Customer Provided)
ELISA
4-5 Months

ScFv Sequence
ScFv Cloning Plasmid
Purified ScFv

Mouse (5)
Protein (GenScript Generated or Customer Provided)
ELISA
3-5 Months

ScFv Sequence
ScFv Cloning Plasmid
Hyrbidoma Cell lines and Supernatants

Mouse (10)
Protein (GenScript Generated or Customer Provided)
ELISA & FACS
4-6 Months
Mouse (10)
DNA (Sequence Provided by Customer) & Overexpression Cell Line (Provided by Customer)
FACS
5-7 Months
Interested in Learning More About ScFvs?
A Single Chain Variable Fragment (ScFv) is composed of a heavy (VH) and light (VL) variable region from one antibody chain which are linked together through a 15-20 amino acid linker peptide. Each subunit of the ScFv (VH & VL) contains 3 hypervariable complementary determining regions (CDRs) which are responsible for antigen binding. Therefore, ScFvs are considered to be the smallest unit of an IgG molecule to have full antigen binding activity, as they are only about 25 kDa.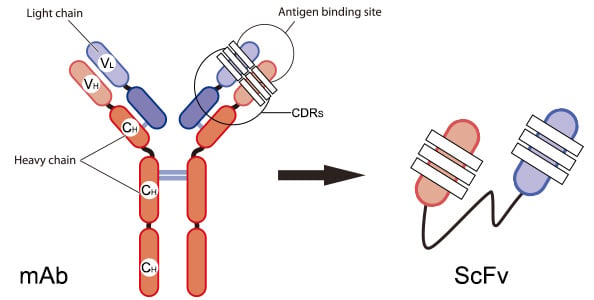 Compared with full length mAbs or other types of antibody fragments, ScFvs have distinct benefits which are responsible for their recent popularity amongst the scientific community. These benefits include…
Increased Tissue Penetration
Rapid Blood Clearance
Reduced Immunogenicity
High Expression Levels in Viral and Bacterial Based Systems
Non-Renal Based Metabolism
ScFv's have recently been recognized for their superior use in a wide range of applications due to their beneficial attributes.
In-Vivo Diagnostics

The small size of ScFvs enables genetic manipulations to conjugate them with radionuclei, quantum dots, nanoparticles, ect. Thus, they can provide a non-invasive tool to visualize the location and distribution of specific targets in vitro.
The rapid clearance of ScFv's without loss of affinity makes them ideal for radio-based imagery in which it can be detrimental to expose a tissue to radio-waves for too long.
ScFv's labeled with fluorescent dye allow for easy visualization of in vivo targets which would difficult for full length mAb's to reach.

Targeted Drug Delivery

The specific target recognition of ScFvs combined with high levels of expression via viruses make them useful tools to deliver drugs, siRNA, and toxins to immune cells and tumors.
ScFv's have been genetically added to the coat of viral and non-viral expression systems in order to allow for targeted drug delivery. The ScFv is expressed in order for the expression system to connect to its drug target and deliver whatever drug they hold inside.
ScFv's have also been used as immuno-nanoparticles for the delivery of drugs to a specific target, even those that are embedded in other cell types or hidden.

Therapeutics

CAR-T Based Immunotherapy: ScFv's are expressed on the surface of T cells in order to target them to specific tumor associated antigens and induce an immuno-oncological effect.
Metabolic Intervention: Using an ScFv as a means of inhibiting or activating a molecular mechanism.
Treatment of Solid Tumors: Immunotherapy using standard mAbs has not been successful for solid tumors due to decreased penetration. ScFv's are able to penetrate these solid tumors to allow for targeted drug delivery or even immunotherapy.