TFA Removal Service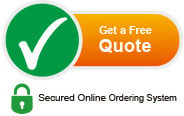 Trifluoroacetic acid (TFA) is a strong acid, which is commonly used to cleave synthesized peptides from solid-phase resins and is also used to improve HPLC performance in the peptide purification step. Although TFA is important, residual TFA in custom peptides can cause inexplicable discrepancies in subsequent assay data. For instance, TFA in nM concentrations has been shown to interfere with cellular assays, as well as inhibiting cellular proliferation in some instances (Cornish et al.)
Download GenScript's Review to get more idea about Impact of TFA in Peptide on Studies in Different Research Fields.
In general, most custom peptides are delivered as lyophilized TFA salts, and can contain as much as 10%-45% TFA. To improve the study outcome, TFA removal is essential before starting your experiment.
TFA Removal Deliverables
GenScript offers two TFA removal services: Standard Service and Guaranteed Service.
Standard TFA Removal Service: reduce TFA level to be

10%-45%

less than 10%
Guaranteed TFA Removal Service: guarantee TFA level to be less than 1%

| Service Type | TFA Residue | Salt Type | Report |
| --- | --- | --- | --- |
| Guaranteed TFA removal | <1% | HCl, Formate, Acetate | Included |
| Standard TFA removal | <10% | HCl, Formate, Acetate, Phosphate | Upon Request* |
In general, the TAT for Guaranteed TFA removal service is 8 days, and 2 days for Standard TFA removal service.
* If Report is selected for Standard TFA removal service, extra cost and 1 day will be needed.
Guaranteed TFA Removal is recommended for:
Standard TFA Removal is recommended for:

Cellular assays
API study
Industry product
Hydrophilic peptides

Cellular assays
Immunotherapy research
Industry product
Protein/peptide structure study
How to order
To place a quote for TFA removal service, use our online ordering system. Enter your required peptide sequence, quantity, and purity. In the comments section type "TFA removal Service" and include your desired salt (HCl, formate, or acetate) and your desired service type (Guaranteed or Standard). Or you can request a quote via email to peptide@genscript.com.