Therapeutic antibodies, specifically monoclonal antibodies, can activate, repress, or alter endogenous immune responses to specific cells or molecules. Antibody-based drugs are revolutionizing the treatment of cancer, inflammatory and autoimmune disease, and many other types of disease.
Genscript is the only company providing end-to-end antibody drug development. Gene Synthesis provides key advantages throughout the process of Antibody Drug Development: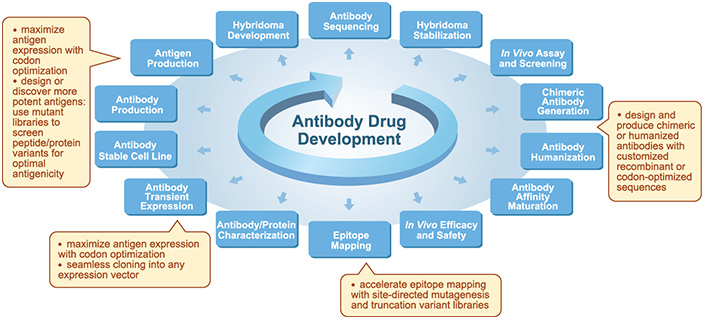 Generate Therapeutic Antibodies with support from the leading global biotech company
From custom bioreagents to antibody drug developments, GenScript offers a comprehensive range of services to aid in basic and translational biomedical research as well pharmaceutical research & development.
GenScript's Gene Synthesis can help you:
GenScript's custom Peptide Services offer:
GenScript's custom Antibody Services offer:
GenScript's Antibody Drug Development Center offer
Read more about how gene synthesis is playing a role in research and development of:
The products and services in this section are for Research Use Only. Not for use in human clinical diagnostics or therapeutics or in vitro diagnostic procedures.