THE™ alpha Tubulin Antibody (Mouse)
Tubulin is one of several members of a small family of globular proteins. The most common members of the tubulin family are alpha Tubulin and β-tubulin, which make up microtubules. Microtubules are obligate proteinaceous elements found in nearly all eukaryotic cells. Monoclonal antibodies to alpha Tubulin serve as a specific and useful tools in studying proper interpretation of Western blots.
The best quality in the industry, THE™ alpha Tubulin Antibody is one of GenScript's THE™ Elite antibodies. THE™ alpha Tubulin Antibody with superior sensitivity and superior specificity can be widely applied to various mammalian animals.
Key Features
High Specificity: No non-specific binding
High Sensitivity: More sensitive than similar products from competitors
Species Reactivity: Recognizes antigens from at least five mammalian animals
Clear Background: High signal-to-noise ratio
Long-term Stability: Stability of lyophilized form for at least two years
Examples:
1. Western Blotting Analysis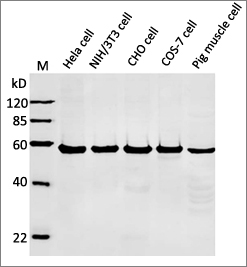 Wide species reactivity of cell lysates with THE™ alpha Tubulin Antibody (A01410, 1 μg/ml).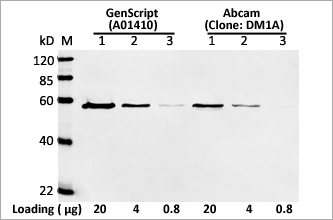 Sensitivity detection of cell lysates using alpha Tubulin Antibody from GenScript (A01410,0.1 μg/ml)and Abcam (Clone DM1A,0.1 μg/ml). Lane 1: Hela cell lysate; Lane 2: NIH/3T3 cell lysate; Lane 3: CHO cell lysate.
2. Immunofluorescent Staining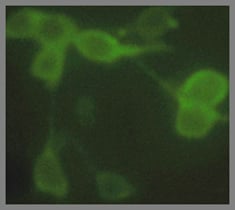 Immunofluorescent analysis of 293 cells using THE™ alpha Tubulin Antibody (A01410, 1 μg/ml).