Human Tumor Cell Line Profiling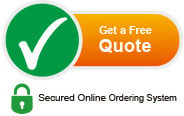 Oncology drug discovery requires knowing the pharmacological mechanism, and efficacy of small molecules on human tumor cell lines. GenScript offers a comprehensive oncology drug discovery platform which includes antibody drug discovery, in vitro and in vivo pharmacology services. As part of our in vitro oncology services, the cost-efficient human tumor cell line profiling packages, OncoProfiler and XenoProfiler, provide you with a combined panel of over 240 human tumor cell lines as well as a range of high throughput screening (HTS) options. XenoProfiler is a panel of tumor cell lines that have been validated in vivo with xenograft models. Together, OncoProfiler and XenoProfiler not only provides efficacy data in human tumor cell lines, but can ensure translation of efficacy from in vitro to in vivo models.
Key Features
High quality assay criteria and short turnaround time
OncoProfiler includes 200 human tumor cell lines. XenoProfiler includes 40 cell lines, which have been validated in vivo with xenograft models
High throughput screening (HTS) options available (see below)
Tumor Cell Line Profiling Assays
As a fully custom service, we offer a wide range of assays to use for proliferation and apoptosis profiles. Additionally, we offer biomarker, cytokine induction and combinatorial drug effect screening.
Profile
Assay Description
Throughput

Proliferation

Luminescent cell viability assay

384-well

MTT/MTS assay

96-well

Cytokine induction

Cell viability assay with optimized incubation time

96-well

Combinatorial drug effect

Using any of the above assays

Custom

Customer defines assay type for any of the profiles
Case study: Analysis of proliferation inhibition
Figure 1: Profile of three different compound effects on proliferation of 225 tumor cell lines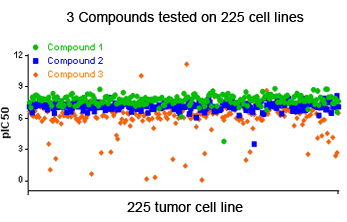 Dose response IC50 of three compounds are reported in the above graph against 225 different human tumor cell lines. Luminescence-based proliferation assay was used to profile compound effect.
Figure 2: Data reproducibility confirmed across plates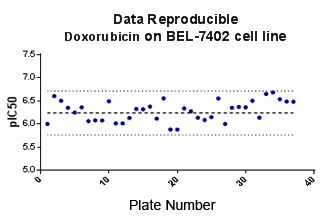 Doxorubicin was used as an internal reference compound. Shown above is the IC50 of doxorubicin on proliferation of BEL-7402 cells.
Figure 3: Full dose response data on the effect of doxorubicin on BEL-7402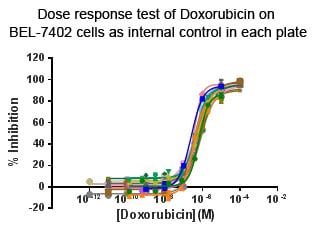 Doxorubicin dose response on inhibition of proliferation of BEL-7402 is shown above.
Related services
ADCC & CDC assays – Screen antibody candidates for anti-tumor activity in vitro using NK-92 recombinant cells in an endpoint-based assay
Cellular Western assay – Get accurate dose response curves from a cell based assay. Available in 96 or 384 well format, with two near-infrared probes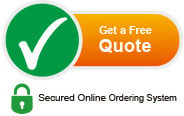 Quotations and Ordering
Please contact us mentioning "Discovery Biology", our customer service representatives are available 24 hours a day, Monday through Friday to assist you with

Form preparation.