Tips of the Trade: Recombinant Protein Expression and Purification Techniques
Recombinant proteins are used in all current research areas from basic biology to drug discovery. However, protein production can be difficult, expensive, and time consuming. This webinar will provide our listeners with an introduction to transient gene expression for recombinant protein production and help address some of the challenges and solutions faced throughout the process.
Expression and purify protein from mammalian cells.
Differences between the regular system and high density system.
Challenging recombinant protein case studies.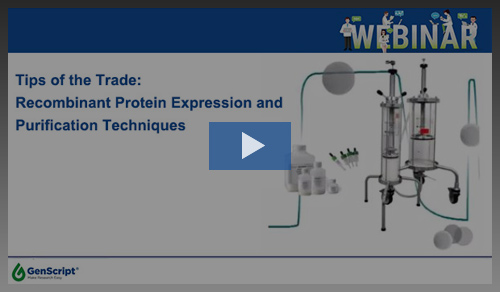 Related Services
Get Quote
HD-HEK and HD-CHO for choice of HEK293 or CHO expression
Yield improvements ranging up to 100 fold
Shortened turnaround time (sequence to protein/antibody in as little as 10 weeks)
Ideal for difficult and low-yield proteins and for need of proteins with proper folding and appropriate post-translational modifications
Get Quote
50 μg or 1 mg packages
Starting under $500
Rapid  turnaround - 4 weeks
Ideal for Ab screening application, epitope binning, assays, and HTP biophysical characterization studies
Transient Protein Expression Service
Get Quote
Gene to recombinant protein in as fast as 6 weeks.
Functional protein in mammalian system with fast turn around time.
Flexible service allows you to build phase-wise project to suit your requirements.
Scale between 100 ml-10 L at competitive prices, starting from $1999.