Get 1 Free ORF Clone
Week of ORF special promotion is back! From 8/10/2020-8/23/2020, the new registered users and the customers who have never ordered ORF clones before can get a free Next-day shipping ORF clone coupon. Also, there is no quantity limitation of ORF clones and unbelievable discount up to 50% for each ORF clone during this period of time.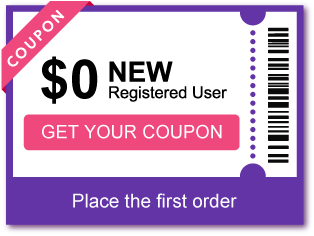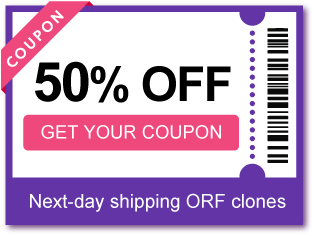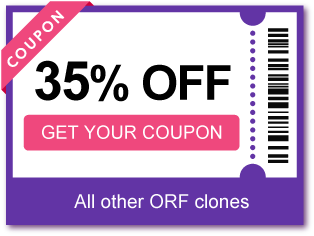 How to get a Free ORF clone?
2
Get a Free ORF coupon on this landing page
3
Add a Next-day shipping ORF clone into the shopping cart
4
Get a free Next-day shipping ORF clone
The latest report reveals the mechanism of SARS-CoV-2 entering host cells is dependent on the cell receptor ACE2 and the serine protease TMPRSS2 to enter the cell. These results suggest a possible therapeutic target and vaccine development for COVID-19.
Gene
Cat. No.
Species
Description
Availability
Price
ACE2
OHu20260
Human
Homo sapiens angiotensin I
converting enzyme 2 (ACE2),
the receptor for 2019-nCoV
$189.5
TMPRSS2
OHu13675
Human
Homo sapiens transmembrane serine
protease 2 (TMPRSS2)
$159.5
Which ORF Clones are you searching for? Search for the latest version of your desired ORFs from our largest commercial database.
The advantage for GenScript ORF clone

Latest version
Update every two months

Next-day shipping
Over 60,000+ ORF products

Competitive price
As low as $49.5

Largest commercial database
Over 2 million ORF clones from GenBank
Terms and conditions
Promotion is valid for all customers, excluding China, Japan and South Korea.
Promotion is valid only for orders placed by 8/23/2020.
This promotion cannot be combined with any other promotion or special pricing agreement.
50% off coupon and 30% off coupon will be expired on Aug 23th, 2020.
The free ORF coupon will be expired on Sep 6th, 2020. The coupon can be automatically applied to ORF clones which are labeled by "Next-day" flag. If you can't use the free ORF coupon, we recommend you some other promotions for ORF clones to meet your needs.
Publication