Western Blotting Made Easy – 2 hours to results
SDS-PAGE and Western blotting are the most commonly used techniques in the lab, yet difficulties persist in obtaining consistent, quality results. At GenScript, we've been helping scientists achieve better results for decades, with continued innovation and steadfast technical support. Explore our expanding portfolio of products, including SurePAGE™ Bis-Tris Gels, Protein Standards, eStain™ L1 Protein Staining System, eBlot™ L1 Protein Transfer System, ONE-HOUR Western Kit and THE™ Elite Antibodies.
GenScript offers an array of products that are pre-optimized to help you quickly obtain quality SDS-PAGE results in 20 minutes and western blotting results in under 2 hours.
One Stop Solution for Protein Analysis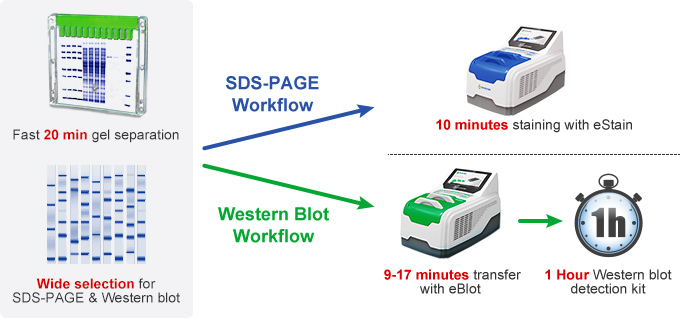 ---