ONE-HOUR Western Standard Kits
With GenScript proprietary Western detection technology, ONE-HOUR Western Standard Kits reduce the total analysis time for a Western blot or Dot blot to just one hour. The kits contain all the necessary reagents, buffers, nitrocellulose membranes and HRP substrates for performing Western blot and is compatible with both chemiluminescent substrates and chromogenic substrates, such as DAB and TMB.
Key Features
Fast and Easy: The entire western detection procedure is completed within one hour.
Ready-to-Go: The kits come with complete secondary antibodies and need no spedial labeling and far less optimization than traditional three-step kits.
High sensitivity: The sensitivity of the ONE-HOUR Western Standard kits is comparable to or better than that of any classical 4.5-hour procedure.
Applications
Protein/antigen detection
Evaluation of protein expression
Antibody/antigen titration
Analysis and comparison of primary antibody activity levels
Examples
Western blot detection of housekeeping protein α-tubulin: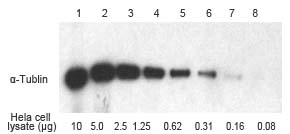 Western blot detection of α-Tubulin using the ONE-HOUR Western Standard Kit (Cat. No. L00204C) and α-tubulin polyclonal antibody (Abcam, ab4074). 10 μg, 5.0 μg, 2.5 μg, 1.25 μg, 0.62 μg, 0.31 μg, 0.16 μg, and 0.08 μg of Hela cell lysates (BD Biosciences, 611449) were loaded into Lane 1, Lane 2, Lane 3, Lane 4, Lane 5, Lane 6, Lane 7, and Lane 8, respectively. The blot was developed with the LumiSensor Chemiluminescent HRP Substrate included in the kit.
Ordering Information