MonoExpress™ Antibody Services
As one of the largest antibody service vendors, GenScript is now offering the fastest immunization services, at the most competitive prices, starting from only $3,800 (special promotional price). Our unparalleled services deliver antibodies 4 months faster than traditional immunization protocols. Achieving high quality antibodies through fast immunization is extremely challenging. Our MonoExpress™ Antibody Services surmounts this challenge providing you with superior quality antibodies in 45 days. This is achieved through smooth integration of our proprietary technologies in the field of gene synthesis, protein expression and antibody generation, which include our Gene-on-Demand® technology platform, OptimumGene™ codon optimization technology, OptimumAntigen™ design tool, T-Max™ adjuvant and our new GANP® mouse technology, an innovative transgenic mouse technology that can produce antibodies with extremely high specificity and affinity.
Key Features:
Broad Application Range

Western positive antibody generated from protein antigen
Phospho-specific antibody generated from phospho peptide antigen
Acetyl-specific antibody generated from acetylated peptide antigen
Antibody pairing generated from protein antigen

Antigen Conservation

Less than 1 mg antigen is required to obtain an equivalent quantity of antibody

Short Generation Time

Specific hybridomas can be generated within 45 days

Variable Host Options

Hybridomas can be prepared from rats or mice

High Quality

High affinity, high specificity, and wide diversity
Case study-1
Case study-2
Case study-3
MonoExpress™ Services
MonoExpress™ Antibody Affinity Testing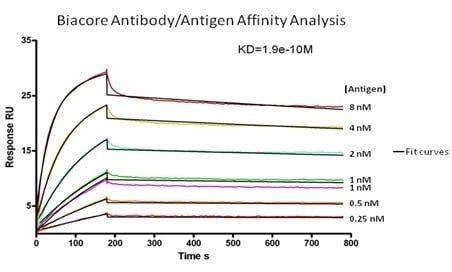 Biacore affinity data from a monoclonal antibody generated by MonoExpress™ Antibody Services.
Compared to an antibody generated by conventional immunization, the MonoExpress™ generated antibody exhibited an equal or greater affinity to its complementary antigen. Typically monoclonal antibodies generated by MonoExpress™ services display reasonably high affinities to their target antigens.
Quotation and Ordering:
| | |
| --- | --- |
| To request a quotation, please download and complete our Quick Quotation Request | |
Our customer service representatives are available 24 hours a day, Monday through Friday to assist you.
| | |
| --- | --- |
| | Email: antibody@genscript.com |
| | Phone: 1-877-436-7274 (Toll-Free), 1-732-885-9188 |
| | Fax: 1-732-210-0262, 1-732-885-5878 |