GenScript's animal model services include tumor and inflammatory/immunological disease models, mainly focusing on efficacy evaluation of antibody drugs and small molecular ones.
Oncology Tumor Model Services
We have validated lots of human cell lines based on xenograft models and established a tumor tissue bank with various patient-derived human primary tumor models. Besides, GenScript has set up orthotopic and metastatic tumor models with in vivo bioluminescence imaging.
With capabilities in molecular tumor biology and pathology, GenScript offers the following services to help our clients with anti-tumor efficacy investigation, proof-of-concept study, dose-effect study, translational biomarker research and mechanism research.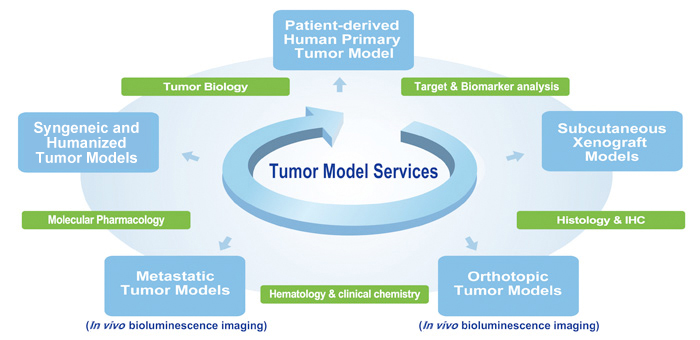 Inflammatory/Immunological Disease Model Services (Cat.No.SC1555)
Inflammation is a fundamental response to tissue injury and invasion of pathogens, and leukocytes are key players in the inflammatory response. Virtually all nucleated cells, especially endo/epithelial cells and resident macrophages are potent producers of cytokines, such as IL-1, IL-6 and TNF-α. Many anti-inflammatory drugs, including antibody drugs, emerged through targeting the cytokines and signal pathway involved in the inflammatory process.
GenScript has validated a wide range of inflammatory disease models with international standards to accelerate your drug development.
Quotation and Ordering
For questions, or to inquire about the status of your order, please contact us by email, phone, fax or via our Secure Online Messaging System.

| | |
| --- | --- |
| To allow us to provide you with a comprehensive quotation, please download and complete the Quotation/Order Form, and send it to us by email, fax, or via our Secure Online Ordering System. | |

To place an order, please send us a formal PO (Purchase Order) or credit card information with our quotation number by email or fax. You can also submit PO/credit card information by phone or via our Secure Online Messaging System.
Our customer service representatives are available 24 hours a day, Monday through Friday to assist you.