ADCC assay (SC1544) and CDC assay (SC1545) services
Antibody therapy has been proven to be highly powerful for cancer treatment. Two important mechanisms used by antibody drugs to kill targeted tumor cells are Antibody-Dependent Cell-Mediated Cytotoxicity (ADCC), and Complement Dependent Cytotoxicity (CDC). GenScript is pleased to present to you both a PBMC-based ADCC assay and natural kill cell-based ADCC assay. The readout is endpoint-driven (target cell lysis). The CDC assay uses normal human serum as the source of complement. By implementing strict QC standards, GenScript can provide the assurance of the efficacy and potency profiles of your therapeutic antibodies.
To save your cost and increase the speed of the experiments, GenScript offers complimentary target cells from a tumor cell panel. More information can be found in the link: /tumor_cell_lines.html.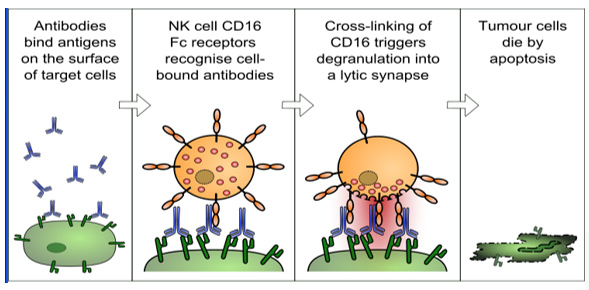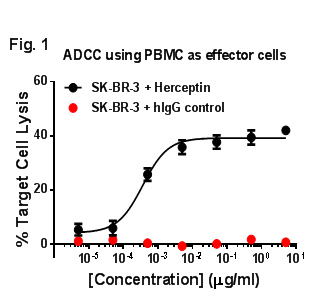 Figure 1 Concentration-dependent study of Herceptin-mediated ADCC on SK-BR-3 cells by using PBMC as effector cells (human IgG as negative control)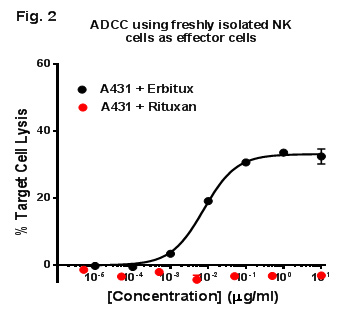 Figure 2 Concentration-dependent study of Erbitux-mediated ADCC on A431 cells by using freshly isolated NK cells as effector cells (Rituxan as negative control)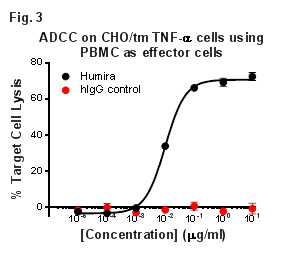 Figure 3 Concentration-dependent study of Humira-mediated ADCC on CHO/tm TNF-α cells by using PBMC as effector cells (human IgG as negative control). CHO/tm TNF-α was a cell line stably expressed membrane bound TNF-α at which the proteolytic cleavage site was modified.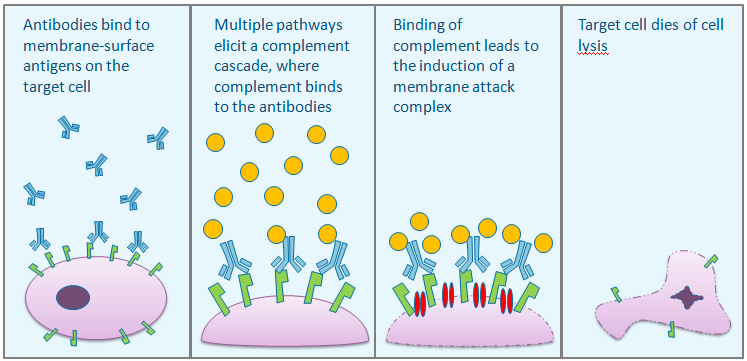 Adapted from http://www.biotek.com/resources/articles/automated-non-adioactive-assay-methods-for-adcc-cdc-assays.htmrl
Case Study 1: Rituxan® elicited CDC lysis of two CD20-positive leukemia cell lines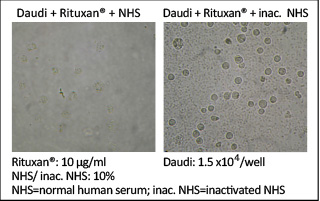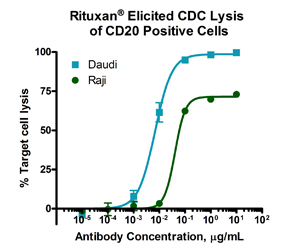 NHS: normal human serum
Key features of GenScript's ADCC & CDC assay services
Data readout is driven by the target cell lysis endpoint
High throughput assay service for bulk antibody drug screening
Large panel of target tumor cell lines free of charge to be used in ADCC assays
Ready-to-go ADCC assay format for at least 4 targets, HER2/ErbB2, CD20, EGFR, and TNFα
Ready-to-go CDC assay format for at least 2 targets, CD20 and TNFα
Related in-vitro pharmacology services:
*All ADCC assays are performed in China.

Quotation and Ordering
Please contact us mentioning "Discovery Biology", our customer service representatives are available 24 hours a day, Monday through Friday to assist you with Form preparation.