Discover how semiconductor technology can create a diverse, fully covered mutant library with unbiased amino acid distribution in our application note. Download Now!
Precision Mutant Libraries
Expedite your downstream screening time with unbeatable control and complete coverage of your designed variants
Mutant libraries are powerful, high-throughput tools for optimizing protein structure and function. However, traditional methods for library construction, including error-prone PCR or degenerate methods, suffer from limited control over codon usage and poor variant representation. This requires multiple rounds of screening to capture the entire variation of the library.
Powered by GenScript's strong expertise in de novo gene synthesis and our semiconductor-based oligo synthesis technology, our Precision Mutant Library service offers precise control over each synthesized variant. The result is a more diverse and fully covered mutant library with unbiased distribution, ultimately saving valuable screening time, speeding up discovery workflow and reducing overall downstream expenses.
Customer Testimonial
"I wanted to create mutant capsids for adeno-associated virus (AAV) vectors to improve targeting and transduction levels. GenScript was able to create a combinatorial mutant library that had 100% coverage of all expected variants before and after viral packaging, and excluded variants that contained amino acids that I did not want present at these sites. Having a library with only the variants that I wanted to test reduced my screening efforts and maximized my time in finding the optimal vector sequence."
―Susan Butler, Rice University
Precision Mutant Library Options
Key Benefits of Precision Mutant Libraries
Precise control of user-defined codon usage

Guaranteed >90% coverage of all desired variants

Superior library diversity with library size >1010
Using Next-Generation Semiconductor Technology for Library Construction
Each bar represents a mutated position and each color represents the frequency of variants with a particular amino acid.
A combinatorial mutagenesis library for 4 sequential amino acid positions was created using either degenerate (NNK) codons or using our precise oligos. Specific amino acids were requested at each site.
Using our semiconductor-based oligos in library construction:
Eliminates the significant codon bias incurred with NNK degenerate oligos
Achieves user-defined amino acid distribution with equal representation of variants
Service Features
Site-Saturation Mutagenesis
Saturation Scanning Mutagenesis
Combinatorial Mutagenesis

Mutate several positions one at a time within a sequence located either consecutively or scattered throughout the protein sequence.

Each position is mutated to all 20 amino acids or specified codons;
Variants are delivered as small subpools, with each pool containing variants of a single amino acid position.

Target a consecutive string of amino acids within a defined region of the sequence or the whole protein sequence.

Each position is mutated to all 20 amino acids or specified codons;
Variants from all positions delivered as a single pool.

Mutate multiple positions simultaneously across specific target regions of a protein.

Only include desired codons;
User-defined amino acid mutations at each position with defined amino acid ratios;
All variants delivered as a single pool, with each variant containing multiple mutations.
Featured Resources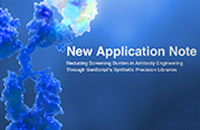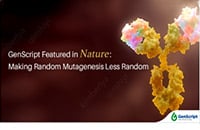 How to Order
*For PCR product deliverables only. For more information about our rapid TAT, please contact us at [email protected]
Technical Support
For questions or to discuss your library design with our Ph.D.-level scientists, contact us 24/7 via: