DNA-free gene editing can be achieved by using purified Cas9 enzymes with gRNA and transfecting them directly into your cells or protoplasts of interest. GenCRISPR™ Cas9 nuclease is the recombinant Streptococcus pyogenes Cas9 protein purified from E. coli and can be used for genome editing by inducing site-specific double stranded breaks in double stranded DNA. Cas9 protein forms a very stable ribonucleoprotein (RNP) complex with the guide RNA (gRNA) component of the CRISPR/Cas9 system. The RNP complex recognizes the target site by matching gRNA with the genomic DNA sequence and leads to DNA breaks within 3 bases from the NGG PAM (Protospacer Adjacent Motif). Presence of a nuclear localization signal (NLS) fusion with Cas9 enzyme ensures nuclear localization.
Enzyme activity validation guarantee
The GenCRISPR™ Gene editing technology has been licensed-in from the Broad Institute. The activity of all GenCRISPR™ Cas9 nucleases has been validated by in-vitro or in-vivo assays. The bioactivity data for all enzymes is included in the protocol document.
---
GenScript's on-demand webinar:
Topic: Strategies for DNA-free gene editing avoiding off-target effects
Presenter: Jyoti Kinghorn, Ph.D.
Date and Time: Open Access
---
Key applications
Applications
Cas9 nuclease
Nuclear localization and in vivo gene-editing
Double Strand Break

GenCRISPR™ Cas9-C-NLS nuclease
GenCRISPR™ Cas9-N-NLS nuclease
GenCRISPR™ NLS-Cas9-NLS nuclease

Single Strand Break

GenCRISPR™ NLS-D10A-Cas9 Nickase

FACS/Fluorescence

GenCRISPR™ NLS-Cas9-EGFP nuclease

In vitro target DNA cleavage
GenCRISPR™ Cas9 nuclease
GenCRISPR™ Transfection reagent New!
Related Products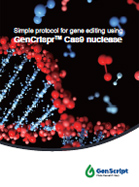 To test one of our Cas9 enzymes, please Click Here.
Download a simple protocol for gene editing using GenCRISPR™ Cas9 nuclease
How to Order CRISPR/Cas9 products from GenScript
Have questions? GenScript's Ph.D.-level service representatives are available 24 hours a day, Monday through Friday, to assist you.