Complexing a CRISPR nuclease with the guide RNA, commonly referred to as the ribonucleoprotein (RNP) complex, has been shown to be the leading CRISPR gene editing mechanism. RNP complex provides scientists with enhanced gene editing performance, while reducing common challenges observed with other delivery systems, including viral- and plasmid-based. GenCRISPR™ nuclease offerings provide scientists with RNA and DNA editing solutions with proven performance including Cas9, eSpCas9, Cas9-EGFP, D10A Nickase, Cas12a and Cas13a.
GenCRISPR™ Nucleases
Cas9
Cas12a
Cas13a
Targeted Nucleic Acid
ds DNA
ds or ss DNA
ss RNA
Size of the protein
~1,000 – 1,600 AA
~1,300 AA
~1,400 AA
Guide
tracrRNA + crRNA
crRNA
crRNA
Type of cut
Double-strand, blunt cut
Double-strand, staggered cut
ss RNA
Cleavage
Cis-cleavage
Cis-cleavage
Trans-cleavage
Cis-cleavage
Trans-cleavage
Targeting restriction
GC-rich sequences
AT-rich sequences
-
PAM/PFS
5' - NGG - 3'
5′-TTTV-3′ upstream
A or U
GenScript variants
eSp, eGFP, Nickase, WT
WT
WT
Compliance
Research
GMP
RUO
RUO
Cas9 Nucleases and Nickases
Cas12a Nuclease
Cas13a Nuclease
Applications
(DNA Editing)
Nuclear localization signal
(NLS)
Biparticle nucleus localization signal
(BPNLS)
Nucleoplasmin nucleus localization signal
(Nucleoplasmin NLS)
Nuclear localization and in vivo gene-editing
Double Strand Break

GenCRISPR™ Cas9-C-NLS nuclease
GenCRISPR™ Cas9-N-NLS nuclease
GenCRISPR™ NLS-Cas9-NLS nuclease
GenCRISPR™ SaCas9 2NLS nuclease

GenCRISPR™ Cas9 v1.1 nuclease
Single Strand Break

GenCRISPR™ NLS-D10A-Cas9 Nickase

GenCRISPR™ Cas9 v1.2 nuclease
FACS/Fluorescence

GenCRISPR™ NLS-Cas9-EGFP nuclease

Double-strand, staggered break

GenCRISPR™ Cas12a (Cpf1) Nuclease

In vitro target DNA cleavage
GenCRISPR™ Cas9 nuclease
GenCRISPR™ Transfection reagent New!
Related Products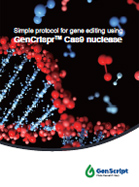 To test one of our Cas9 enzymes, please Click Here.
Download a simple protocol for gene editing using GenCRISPR™ Cas9 nuclease
How to Order CRISPR/Cas9 products from GenScript
Have questions? GenScript's Ph.D.-level service representatives are available 24 hours a day, Monday through Friday, to assist you.


Enzyme activity validation guarantee
The GenCRISPR™ Gene editing technology has been licensed-in from the Broad Institute. The activity of all GenCRISPR™ Cas9 nucleases has been validated by in-vitro or in-vivo assays. The bioactivity data for all enzymes is included in the protocol document.