Recombinant Antibody Production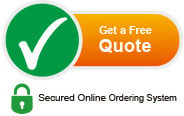 There is a great need to develop expression systems with high production yields, fast turnaround times and improved process economics. Despite the fact that the majority of approved antibodies are full-length, there is increasing interest to produce smaller antibody fragments such as Fab, scFv, sdAbs as well as more complex bispecific antibodies.
Antibody Expression in Prokaryotic Hosts
Typically, if an antibody fragment is acceptable, expression in a bacterial host [E. coli] maybe the best choice.
E. coli: The simplicity and ease of fermentation has made E. coli an ideal host for antibody fragment production. But the absence of complex post-translational modifications and glycosylation has limited the use of E. coli for producing full length rAbs.
E. coli advantages include
Well characterized genetics
Easy manipulation
Short process development timeline
Simple fermentation
Scalability
Less safety issues from viral contaminants
Cytoplasmic expression of antibody fragments in E. coli often results in the production of aggregates within inclusion bodies. Antigen binding activity can be reconstituted after polypeptide refolding1,2 but recovery takes a hit in this process. Strategies to improve soluble expression include the removal of cysteine residues within rAb sequences.
Alternately, periplasmic expression can be attempted but yields can be an issue. In order to produce properly folded functional antibodies with disulfide bonds, the individual antibody chains must be transported to the oxidizing environment of the bacterial periplasm. The periplasm also contains proteins such as disulfide isomerases and chaperonins which aid in the refolding of the newly synthesized proteins. For periplasmic expression, the antibody is directed to the oxidizing environment of the periplasm by the use of a leader sequence (PelB, OmpA, PhoA)3,4. After expression, antibody can be recovered from the periplasmic space by osmotic shock. Yields have been reported in the range of 0.1 mg/L to 100 mg/L in shake flask cultures and up to 2 g/L when using fermenters3-6.
One can also try specialized E. coli strains that provide an oxidizing environment in the cytoplasm. These are usually trxB and gor mutants7.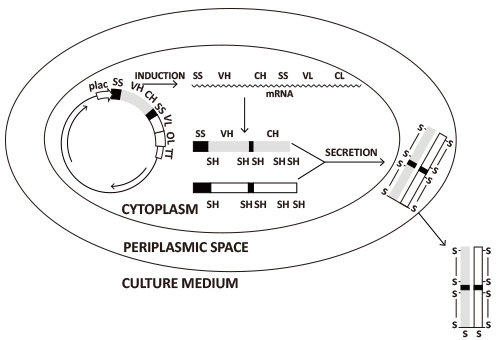 Figure 1: Expression of a soluble secreted Fab fragment in E.coli. After induction, dicistronic mRNA is synthesized and subsequently translated into preproteins in the cytoplasm. Secretion to the periplasm is facilitated by the use of signal peptides which are removed during the translocation process. The secreted chains fold and assemble in the oxidising environment of the periplasm and the active Fab fragment leaks into the culture medium.
Some of the factors that affect E. coli expression of rAbs are:
Sequence8
Secretion
Transcription and translation efficiency9
Protein folding rates10
Aggregation and degradation11
Ratio of HC and LC12,13
Proteolysis
The previous section in this series is "Candidate Selection". To review, click here.
GenScript Antibody Drug Discovery Services
Antibody Discovery: GenScript's Antibody Engineering group can build antibody library with up to 1010 individual clones, to speed up your antibody discovery efforts.
Antibody Sequencing: GenScript's advanced Antibody Sequencing technology offers fast and professional sequencing services for your monoclonal antibodies.
Assays: GenScript has developed several cell-based ADCC/CDC functional assays to profile the efficacy and potency of your therapeutic antibodies using proprietary recombinant effector cells.
Antibody Engineering: GenScript scientists' extensive experience in antibody engineering can provide superior services such as antibody humanization, affinity maturation and more.
Antibody Production: With solid expertise in recombinant antibody (rAb) production techniques, GenScript provides a comprehensive rAb service portfolio that deliver microgram to gram quantities of pure rAb for each stage of your Ab drug discovery program.
PK/PD Study: GenScript offers over 120 tumor and inflammation models for evaluation of in vivo efficacy, PK/PD, biomarker and bioanalysis studies. GenScript Anti-idiotype Antibody services are also a powerful tool for antibody drug PK/PD and immunogenicity studies.
You can also view our Recombinant Antibody Service Selection Guide to identify services that are the best match for your application.
References
Cabilly, S. et al. Generation of antibody activity from immunoglobulin polypeptide chains produced in Escherichia coli. Proc Natl Acad Sci U S A 81, 3273-3277 (1984).
Boss, M. A., Kenten, J. H., Wood, C. R. & Emtage, J. S. Assembly of functional antibodies from immunoglobulin heavy and light chains synthesised in E. coli. Nucleic Acids Res 12, 3791-3806 (1984).
Skerra, A. & Pluckthun, A. Assembly of a functional immunoglobulin Fv fragment in Escherichia coli. Science 240, 1038-1041 (1988).
Better, M., Chang, C. P., Robinson, R. R. & Horwitz, A. H. Escherichia coli secretion of an active chimeric antibody fragment. Science 240, 1041-1043 (1988).
Chen, C. et al. High-level accumulation of a recombinant antibody fragment in the periplasm of Escherichia coli requires a triple-mutant (degP prc spr) host strain. Biotechnol Bioeng 85, 463-474, doi:10.1002/bit.20014 (2004).
Carter, P. et al. High level Escherichia coli expression and production of a bivalent humanized antibody fragment. Biotechnology (N Y) 10, 163-167 (1992).
Levy, R., Weiss, R., Chen, G., Iverson, B. L. & Georgiou, G. Production of correctly folded Fab antibody fragment in the cytoplasm of Escherichia coli trxB gor mutants via the coexpression of molecular chaperones. Protein Expr Purif 23, 338-347, doi:10.1006/prep.2001.1520 (2001).
Humphreys, D. P. et al. High-level periplasmic expression in Escherichia coli using a eukaryotic signal peptide: importance of codon usage at the 5' end of the coding sequence. Protein Expr Purif 20, 252-264, doi:10.1006/prep.2000.1286 (2000).
Donzeau, M. & Knappik, A. Recombinant monoclonal antibodies. Methods Mol Biol 378, 14-31 (2007).
Fernandez, L. A. Prokaryotic expression of antibodies and affibodies. Curr Opin Biotechnol 15, 364-373, doi:10.1016/j.copbio.2004.06.004 (2004).
Sorensen, H. P. & Mortensen, K. K. Advanced genetic strategies for recombinant protein expression in Escherichia coli. J Biotechnol 115, 113-128, doi:10.1016/j.jbiotec.2004.08.004 (2005).
Simmons, L. C. et al. Expression of full-length immunoglobulins in Escherichia coli: rapid and efficient production of aglycosylated antibodies. J Immunol Methods 263, 133-147 (2002).
Humphreys, D. P. et al. A plasmid system for optimization of Fab' production in Escherichia coli: importance of balance of heavy chain and light chain synthesis. Protein Expr Purif 26, 309-320 (2002).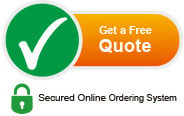 Quotations and Ordering

Our customer service repsentatives are available 24 hours a day, Monday through Friday, to assist you.