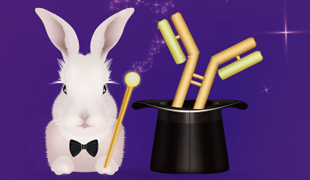 Stop letting low specificity antibodies ruin your experiments!
MonoRab™
GenScript's newly upgraded Rabbit mAb Discovery Platform delivers the Most Clones for your application!
Novartis' breakthrough rabbit-derived mAb receives FDA approval
People with the chronic, degenerative eye disease wet age-related macular degeneration (wet AMD) now have a new, potentially better, treatment option to choose from. Earlier this month, Novartis's Beovu (brolucizumab) was approved by the U.S. Food & Drug Administration for the treatment of wet AMD. A primary cause of wet AMD is the overexpression of vascular endothelial growth factor (VEGF). VEGF causes wet AMD by spurring the aberrant formation of blood vessels in the eye, in a process known as choroidal neovascularization. These abnormal blood vessels form beneath the macula, an area near the center of the retina that is responsible for high-resolution color vision in humans. The blood and fluid that leaks from these vessels is a hallmark of wet AMD. If left untreated, this pathogenic build-up of retinal fluid can lead to distorted central vision, and may ultimately result in blindness.
Normal

Wet AMD
Patients with wet age-related macular degeneration lose their central field of vision. Left: View of a healthy individual; Right: View that a person with wet AMD might have.
Brolucizumab is a rabbit-derived therapeutic monoclonal antibody
Brolucizumab is a single-chain variable fragment (ScFv) mAb that potently inhibits VEGF. Due to their small size, ScFvs can be delivered at higher concentrations compared to other therapeutic mAb formats, and are able to more effectively penetrate tissue to exert their therapeutic effects. A key difference that sets brolucizumab apart from other mAbs, however, is that it is a humanized ScFv derived from rabbits, making this mAb the first of its kind in the market. In contrast, most other therapeutic mAbs are derived from mice.
Since 1985, ~100 therapeutic monoclonal antibodies have been approved for clinical use to treat a wide variety of diseases, and that number is only expected to grow. Monoclonal antibodies (mAbs) are renowned for having high specificity and affinity towards their biological targets, which in turn reduces safety and toxicity concerns. As a result, it is imperative that therapeutic mAb research efforts stem from high quality mAb leads.

The rabbit's immune system is naturally poised to generate high quality antibodies. Learn more about the strengths of antibody generation in rabbits by reading our white paper.
It is unsurprising, then, that Novartis researchers elected to use rabbit mAbs in their initial development of brolucizumab. Rabbits are a fantastic tool for therapeutic mAb lead generation. Unlike mice, rabbits possess a unique natural B cell ontogeny that results in the development of a highly diverse antibody repertoire, allowing for the generation of mAbs that demonstrate superior sensitivity, affinity, and specificity compared to mouse-derived antibodies. Furthermore, rabbit antibodies undergo sophisticated affinity maturation processes which include both somatic hypermutation and gene conversion. Additionally, being genetically diverse and evolutionarily distinct from mice, rabbit antibodies can be generated against challenging targets such as small molecules, and even epitopes that are typically non-immunogenic in mice.
Rabbit mAbs make great research tools for a wide variety of applications
In addition to antibody drug discovery and therapeutic research, rabbit mAbs have long found a multitude of uses in a variety of immunological research and diagnostic applications, including in vivo and in vitro imaging, FACs, ELISA, IHC, and much more. With the rapid development of high throughput technologies to generate, validate, and humanize key mAb leads, it is apparent, as evidenced by the approval of brolucizumab, that the use of rabbit-derived mAbs will be used as tools that contribute to research, diagnostic, and therapeutic development is likely to increase in the coming years.
MonoRab™ will help you unlock the power of rabbit mAbs in your research applications
Recognizing the advantages of rabbit mAbs, GenScript sought to afford researchers greater access to high quality custom rabbit mAbs. As a result, GenScript, an award-winning custom antibody provider, is proud to announce that it has upgraded MonoRab™, it's premier custom rabbit mAb generation platform.
GenScript's newly upgraded MonoRab™ workflow.
MonoRab™ is a full-scale, high end custom antibody generation service which combines GenScript's collective expertise in peptide generation, molecular biology, recombinant protein expression, and antibody discovery. Using GenScript's novel antibody generation technology, MonoRab™ is able to produce large scales of recombinant antibodies while maintaining native antibody chains at a highly competitive price. Whatever the specific downstream application, rabbit mAbs generated using MonoRab™ will certainly provide unmatched results and great customer satisfaction.  Get more information about MonoRab™ here, and learn about the benefits and applications of rabbit mAbs by accessing the technical content below.
GenScript Webinar

Rabbit Monoclonal Antibodies in Tissue Diagnostics
---
Novartis, 2019, accessed Oct 8th, 2019 https://novartis.gcs-web.com/Novartis-receives-FDA-approval-for-Beovu-offering-wet-AMD-patients-vision-gains-and-greater-fluid-reductions-vs-aflibercept
---
Dugel P, et al. HAWK and HARRIER: Phase 3, multicenter, randomized, double-masked trials of brolucizumab for neovascular age-related macular degeneration [published online ahead of print]. Ophthalmology. 2019.
---
Weber J, et al. From rabbit antibody repertoires to rabbit monoclonal antibodies. Experimental & Molecular Medicine (2017) 49, e305; doi:10.1038/emm.2017.23