Single-Cell Western Blot: A Novel Method to Detect Cell-to-Cell Variation
Cell-to-cell heterogeneity is a common phenomenon observed in a variety of cellular processes including: stem cell differentiation, development, cancer, pharmaceutical efficacy and immune response. Traditional ways of studying single cell behavior, such as flow cytometry and immunocytochemistry, often give ambiguous results, failing to highlight unique and diverse behaviors within complex cell populations. Recently, scientists at UC Berkeley developed a novel single-cell Western Blot(scWestern) method capable of measuring cell-to-cell heterogeneity. This method allows for better discrimination between on-target and off-target signals, owing in part to the protein separation step prior to antibody probing.
scWestern Protocol
Single-cell Western analysis employs a microscope slide coated with a thin photoactive polyacrylamide (PA) gel micropatterned with an array of 6,720 microwells.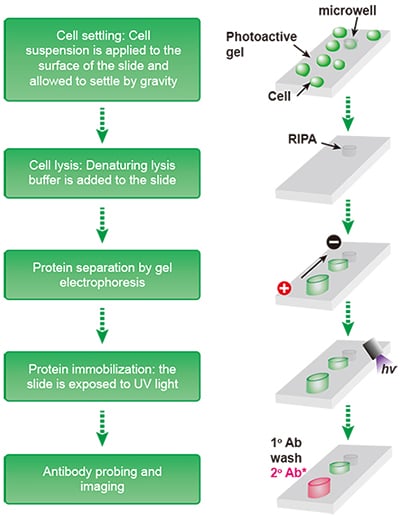 Utilizing the protocol described above, scientists studied MAPK signaling dynamics within single neuron stem cells. When probing phosphorylated ERK1/2(pERK), two proteins of different sizes were detected.  The larger protein, presumed to be pERK5, has been reported to cross-react with pERK1/2 antibody due to sequence homology. The scWestern blotting method allowed scientists to hypothesize this extra protein band was due to off-target antibody probing since (1) substantial cell-to-cell variability existed for the pERK5 band and (2) pERK and ERK antibody fluorescence signals did not correlate. Traditional ICC and FC assays often fail to discriminate against erroneous protein signals, making scWestern blotting a powerful method to advance assay specificity and highlight diverse cellular responses to a variety of stimuli.
| | |
| --- | --- |
| | Hughes et al. (July 2014). Single-cell western blotting.Nature Methods.11(7), 749-755. |
To facilitate your research, GenScript offers Western Blot Guaranteed polyclonal and monoclonal antibody production services. Our MonoExpress™ and PolyExpress™ custom antibody production packages are your one-stop solutions for high-specificity/high-affinity antibodies designed to meet your assay needs. PolyExpress™ Premium (pAb) & MonoExpress™ Gold (mAb) custom antibody packages use recombinant protein antigens, ideal for studies where recognition of surface epitopes of the native protein is critical.
You provide

Protein sequence

Protein sequence

We deliver

1-5mg affinity purified pAb

Screen 10 and choose up to 5 hybridomas; receive 2 mg purified Ab

Guarantee

Positive Western Blot results;
ELISA titer ≥ 1:64,000

At least 1 clone Western Blot positive; ELISA titer ≥ 1:64,000

Turnaround time

12 weeks – At least 4 weeks faster than our competitors!

11 weeks to first delivery – At least 3 weeks faster than any other vendor!
Get started today!
GenScript understands the great diversity in research topics and offers a variety of one-stop solutions to match your needs.