Within the past 3 years alone, the FDA has approved 20 novel antibody therapeutics for oncological treatment, with over 300 therapeutic antibodies currently in oncology based clinical trials. However, despite this exponential growth, most therapeutic antibodies rely on a monomeric immunotherapy based mechanism. Therefore, there is an urgent demand for new therapeutic strategies, such as combinatorial therapy, and novel modalities, such as bispecific antibodies.
In this webinar, we will cover:
An overview of therapeutic antibodies, focusing on the opportunities and challenges of current monotherapy.
The major benefits of bispecific antibodies and the current formats used in clinical trails.
An in depth , integrated SMAB (single-domain antibody fused to monoclonal antibody) case study from rational design to preclinical development.


Speaker: Li Chen, Ph.D., Principal Project Manager, Therapeutic Antibody Discovery Service, GenScript USA
Date: Oct. 17th, 2018
Time: 11:00-12:00 PM EST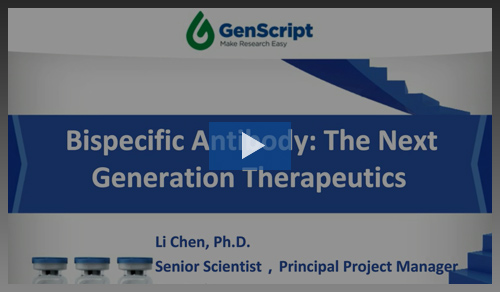 View Webinar Download PPT Slides
Speaker Bio

Dr. Li Chen, Ph.D, Senior Scientist, Principal Project Manager, Group Leader, Antibody Department at GenScript USA Inc. Dr. Chen received his Ph.D. from the University of Massachusetts Medical School, specializing in antigen Engeneering, Dr. Chen has extensive experience in Antibody drug discovery, he has published over 8 highly-cited papers in immunology, virology, and biochemistry Journals, and has received few patents in the antibody discovery field.
Related Services
Learn More
Superior Potency through Novel MOA
Low off-target binding reduces side effects
Develop only 1 molecule and save 1/2 of investment in comparison with combination therapy