Custom Monoclonal Antibody Services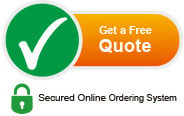 Whether it's your first time developing a monoclonal antibody or you have exacting protocol requirements, GenScript provides comprehensive service packages for monoclonal antibody development at all levels of control. Our MonoExpress package carries industry leading application guarantees and delivers supernatants in just 45 days. Need a little more control? Our semi-custom package offers the flexibility of a custom service but with simplified protocol building blocks that adapt the service to your needs. For ultimate control, GenScript's fully-custom monoclonal antibody generation services offer ultimate control at every phase of the project, allowing you to modify, restart, or even cancel your project. Require antibodies with higher affinity/specificity? GenScript's MonoRab™ rabbit monoclonal antibody generation services can meet your specific needs as a better option for mouse mAb services.
We even offer specialized services including phospho specific antibodies, anti-idiotype antibodies and more. Use our selection guide below to see our complete range of services and decide which package is right for you.
Custom Monoclonal Antibody Production Service Selection Guide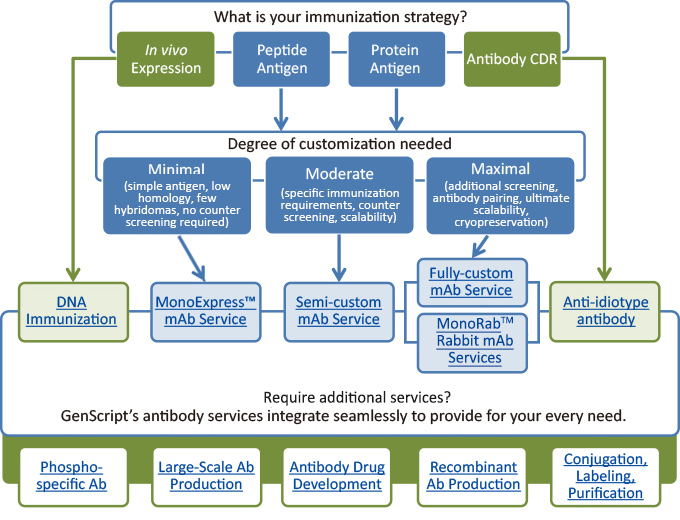 Custom Monoclonal Antibody Production Services Key Features
Optimized immunization: Our advanced technologies - OptimumAntigen design tool, intelligent Antigen Strategy, proprietary immunization technology - increase the specificity and affinity of our monoclonal antibodies.
Certified facility: AAALAC International accreditation and OLAW certification, demonstrating our commitment to responsible animal care and use.
Guaranteed results: ELISA titer and Western blot guaranteed packages available.
Fast turnaround time: Delivery of monoclonal antibodies 3 weeks faster than our competitors.
Strict Confidentiality: No project associated information and products will be disclosed except to the project owner.
ZERO setup fee: Our confidence and near 100% success rate limit the risk to you.
Antibody Generation at its Best
Learn why hybridoma technology is preferred for high quality antibody generation, and see how it compares to other antibody generation methods!
Free white paper download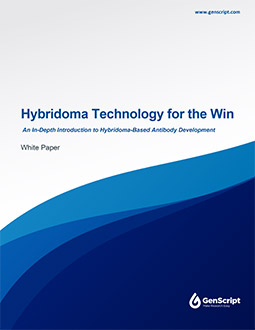 Custom Monoclonal Antibody Development Related Services
Not interested in monoclonal antibodies? Take a look through our other major service offerings:
PolyExpress™ Antibody Service: our polyclonal antibody service can deliver you 3 antibodies
in just 45 days starting from only your sequence
Antibody Drug Discovery: A complete suite of services supporting therapeutic antibody
drug development from lead generation, through characterization and antibody production.
Unsure which service line is appropriate for your application? Try our Antibody Service Selection Tool.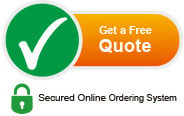 Quotations and Ordering

Our customer service representatives are available 24 hours a day, Monday through Friday to assist you.