eBlot® L1 Fast Wet Transfer System
9-17 minutes transfer system with ultra-efficiency and simplicity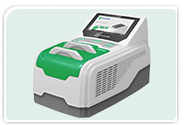 Excellent transfer efficiency: Better transfer efficiency than traditional wet transfer
Simple: Easy to assemble, one button operation and customizable programs available
Comprehensive: Outstanding performance for small, medium and large proteins
Fast: Complete transfer in 9-17minutes.
Efficient: Simultaneously transfer two mini gels
Compatible: Highly compatible with different types of precast or homemade gels
eBlot® L1 is a highly efficient wet protein transfer system, which uses a patented technology developed by GenScript. eBlot® L1 combines the high stability and efficiency of the traditional wet transfer with the rapidness and convenience of the semi-dry transfer system. The device allows the efficient transfer of small, medium and large molecular weight proteins within 9-17 minutes.
eBlot® L1 allows fast and efficient transfer of 1 or 2 mini gels at a time. The system comes with conveniently designed transfer stacks/consumables (sold separately). The setup takes less than 2 minutes and can be performed just with the dry sponge.
Embrace the brand new experience that eBlot® L1 brings you!