GenBuilder™ DNA Assembly
GenScript's GenBuilder™ DNA Assembly technology takes recombination-based cloning to the next level. Pushing the bounds of innovation, the GenBuilder™ technology allows for seamless fusion of one to twelve gene fragments with the highest efficiency. Whether using fragments longer than 5 kb, unpurified PCR products, single stranded DNA inserts, or have only fifteen minutes to complete the cloning reaction- the GenBuilder™ DNA Assembly technology helps you build your constructs quickly and accurately.
Seamless cloning made easy as 1-2-3!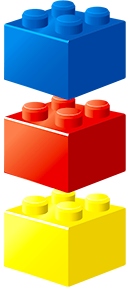 Short assembly time
DNA Assembly works with unpurified PCR fragments

Incubation in the enzyme mix for only 15 minutes
Highest cloning efficiency in the industry
Rigorously tested among 8 DNA assembly kits
Consistent performance
Quality control by assembling 12 fragments with >90% positive rate

Performance verified by >1,000 reactions per day in production line
Download supporting data and case studies

Ordering information