Genetic Engineering Research Applications for Gene Synthesis
Gene synthesis is routinely used to generate DNA constructs used for genetic engineering in cells, tissues, and organisms. Genetic engineering projects may use synthetic genes to express desired proteins, metabolic circuits, or other features for the purposes of basic life science research, biomedical / translational studies, or industrial applications. Genetic Engineering is a key portion of the growing field of synthetic biology, and gene synthesis is propelling cutting-edge developments such as those on display at the annual iGEM competition. De novo gene synthesis offers ultimate flexibility in generating mutant genes, variant libraries, or codon-optimized genes for efficient heterologous protein expression in any host species. New technologies such as CRISPR/Cas9 provide powerful tools for heritable genetic modification – also known as genome editing – with high efficiency and specificity compared to older methods such as Cre-lox for integrating gene cassettes into nuclear DNA. In cases where constitutive or systematic knock-out of a gene is not viable, CRISPR plasmids or traditional targeting vectors may be controlled by inducible or tissue-specific promoters for conditional knock-out.
Related Resources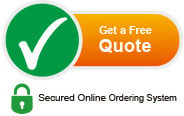 Quotations and Ordering
Learn more about our Gene Synthesis or other Molecular Biology Services
Request a quote for gene synthesis through our secure online quotation request form
Our Ph.D-level gene service representatives are here to help manage your projects from sequence design, optimization, synthesis, cloning and beyond without any additional charges
We are available 24 hours a day, Monday through Friday to assist you
The products and services in this section are for Research Use Only. Not for use in human clinical diagnostics or therapeutics or in vitro diagnostic procedures.