GenScript Investing $75 million in the New Biologics GMP Facility
Piscataway, NJ. (Jul 5, 2018) – GenScript Biotech Corporation, a world's leading biotech company announced on July 5, 2018 that it will invest $75 million (approximately HK$590 million) to establish a modern biologics discovery, development, clinical and commercial manufacturing center in the city of Zhenjiang, Jiangsu Province, China. The Manufacturing Center is scheduled to come into use by 2020.
GenScript`s Zhenjiang Biologics Manufacturing Center will cover an area of 100,000 square meter space for more than to 400 new employee. The state-of-the-art facility includes functional areas for the production, filling, quality control and cold chain logistics for biologics, as well as warehouse facilities for raw and auxiliary materials. The Manufacturing Center will be designed and constructed in total compliance with the good manufacturing practice (GMP) requirements of FDA, EMEA and cFDA(China Food and Drug Administration). Our GMP facility will be equipped with 200-liter, 500-liter and 2000-liter cell culture bioreactors and the world's leading single-use bioreactor technology. Its total production capacity is estimated to reach 5,700 liters. This capacity and flexibility will be combined in this new manufacturing center and it is expected to meet the needs for Phase I to III clinical sample production and commercial production.
Dr. Frank Zhang, CEO of GenScript Biotech Corporation, commented: "Zhenjiang Biologics Manufacturing Center is one of the Company's major milestones towards CDMO (contract development and manufacturing organization). In the next two years, we will streamline and integrate our biologics discovery, development, clinical and commercial production, offering one-stop Biologics Discovery and Development service to worldwide partners. With this effort, we will be able to meet the increasing need for biologics development and manufacture, and speed up the transformation of biologics from targets to products."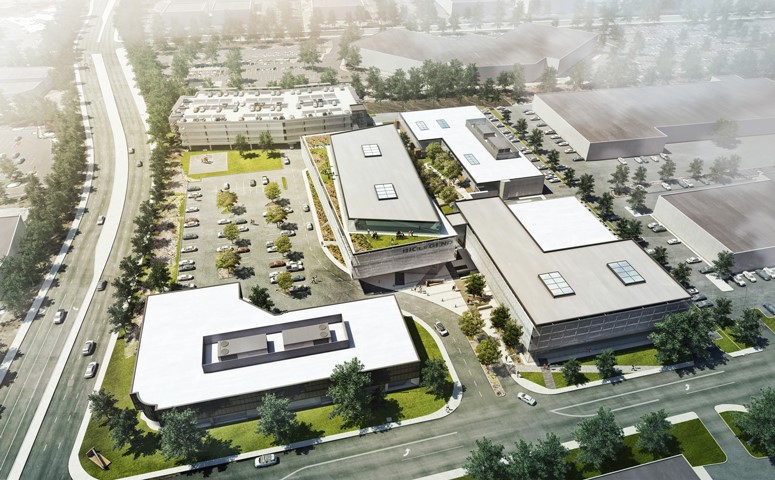 A Computer Rendering of GenScript's Biologics Manufacturing Center
About GenScript
GenScript is a leading contract research organization providing gene, peptide, protein, CRISPR, and antibody reagents to scientists in over 100 countries worldwide. Since its foundation in 2002, GenScript has grown exponentially through partnerships with scientists conducting fundamental life science and translational biomedical research, as well as early stage pharmaceutical development. With a mission to improve the health of mankind and nature through biotechnology, the company has developed the best-in-class capacity and capability for producing biological reagents in order to Make Research Easy for all scientists. For more information, visit www.genscript.com.
For More Information Contact
Corporate Contact:
Sally Wang, Chief Operating Officer
GenScript
732.885.9188 ext 111
sally.wang@genscript.com