Glutamine Synthetase Gene Expression Technology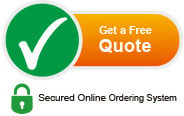 The Glutamine Synthetase gene expression is widely used for recombinant antibody and protein production in mammalian cell culture. Glutamine Synthetase gene expression relies on glutamine synthetase enzyme which synthesizes glutamine from glutamate and ammonium ions. Since many mammalian cells cannot make endogenous glutamine, transfection with a vector encoding Glutamine Synthetase enzyme ensures cell survival in culture. And for those cells that make endogenous glutamine, using the Glutamine Synthetase enzyme inhibitor, methionine sulfoximine (MSX), enables suppression of the endogenous glutamine while allowing use of the Glutamine Synthetase vector for recombinant expression. To learn more about the Glutamine Synthetase technology principle, click here.
GenScript's Glutamine Synthetase technology uses a proprietary vector with a strong promoter to drive recombinant gene expression and a relatively weaker promoter that drives the Glutamine Synthetase gene expression. The reliability of the Glutamine Synthetase gene expression will allow the rapid generation of high-producing cell lines. To see Glutamine Synthetase technology case studies, click here. For GenScript Glutamine Synthetase gene expression details, see below.
Key Features and Advantages of GenScript Glutamine Synthetase Technology
Feature
Advantage
Glutamine Synthetase Vector

Ease of Glutamine Synthetase based selection system
Selection using glutamine-free medium
Rapid: no need for rounds of gene amplification
Optimized leader sequence for efficient secretion
Proprietary double gene Glutamine Synthetase vector for rAb Light and Heavy chain expression

Cell Line

CHO-derived host cell line
Adapted for suspension growth in serum-free, chemically-defined media
Selected for superior growth and expression

Process Development

Fully optimized cell line development process
Productivity >5 g/L can be achieved
High probability of monoclonality
GenScript Glutamine Synthetase Technology Workflow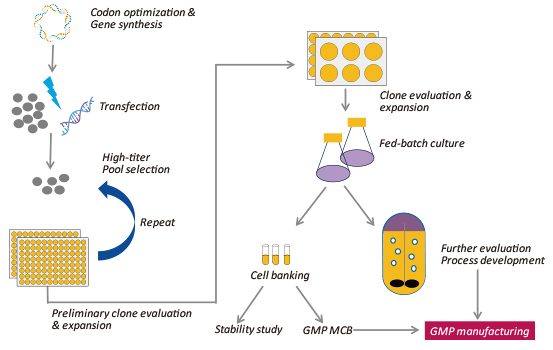 GenScript Glutamine Synthetase Technology Package Details
Step
Description
Timeline (weeks)
Deliverables
Pricing
Molecular Biology

Codon optimization
Gene synthesis
Cloning
Transfection-grade DNA prep

2-4

Target gene(s) in pUC57 and vector map
Expression report
Top 3 stable clones
Comprehensive report

Stable cell pool screening

Stable cell pool screening
Stable cell pool detection
Selection of top 3 cell pools

6-8
Sub-cloning & limiting dilution

Screening 100-300 single cell clones
Single cell clone detection

4
Batch culture or Fed-batch culture

Select top 10-30 clones based on expression profile, for batch culture or fed-batch culture

3-4
Cell line stability evaluation

Select top 5-10 clones based on expression profile, for stability test, 10 generations
Mycoplasma testing using NEST-PCR

2
Research Cell Bank Preparation

Preparation of frozen cells from top 3 clones for delivery (20 vials/clone)

2
Scale up protein or rAb production

Scale up and purification of rAb or protein, as per customer request

Variable, based on request
For details on GenScript's overall stable cell line service portfolio, click here.
Not what you are looking for? See our related service pages below.
Prefer to check on your protein expression level first? Check out our PROTential protein expression evaluation & optimization service. PROTential helps to check on the target protein expression in CHO or HEK293 cells, starting at just $500.
Looking for antibody fragment production services? Visit our guaranteed antibody fragments production page.
Want up to 1mg purified rAb for antibody drug screening applications, in a High Throughput (HTP) format? Visit our HTP Gene to Antibody page.
Need high quality recombinant antibody up to 500 mg at ≥95% purity and with low endotoxin levels? Visit our MamPower™ guaranteed recombinant antibody production page.
Need more than 500 mg of recombinant antibody? Visit our large scale recombinant antibody production page.
Need high quality mammalian protein expression services? Visit our MamPower™ guaranteed protein expression page.
For information about our protein services, please visit our recombinant protein services main page or contact us using the information listed below.
Unsure which rAb service would work best for you? Use this guide to quickly determine which services are the best match for your application.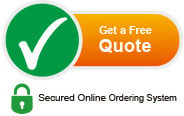 Quotations and Ordering
For any other inquiries, please contact us using the details listed below. Our customer service representatives are available 24 hours a day, Monday through Friday to assist you.