Did you know that each year 17 million hectares of forests disappear from the earth due to human beings' activities? This means that we lose 4.7 hectares of forests – equal to about 4700 trees – in any given day! If this trend continues and we don't do anything about it, there will be no forest left in the world within a century. As a global leading life technology corporation, GenScript's is not only committed to making human and nature healthier with life science and biotechnology, but we are also striving to reduce waste and protect our environment, this is why we launched GenScript's "Paperless Program" to help all of us do our part.
What's GenScript's Paperless Program?
For customers who choose to enroll in our Green Account, only electronic quality control documents will be provided (Note: Printed billing documents will continue to be provided.); and the QC documents can be downloaded in "my account" page. See the illustration »

We will donate $1 per order on behalf of every Green Account customer to American Forests who plants one tree with each dollar donated.
We will publish the donation details on our website, you can check it below in the Donation Details section.
How to join "GenScript's Paperless Program"?
It is very easy to join; all you need to do is to choose the paperless settings under "My Account Private Information Contact Information". (See the illustration »)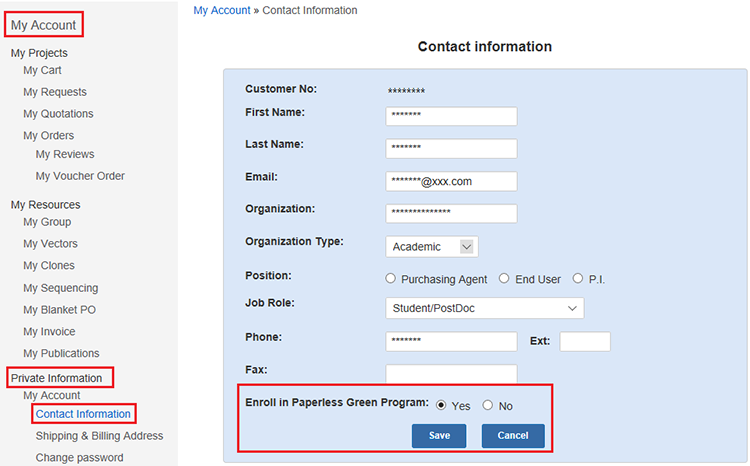 What are the benefits of joining "GenScript's Paperless Program"?
Great for You and the Environment
Going paperless reduces waste, saves and helps with planting more trees. It is good for the environment and ultimately good for you.
Reliable Service
You will have all your quality control documents safely stored in our secured database, with no worries about future use.
Easily Accessible
You will never need to wait for the snail mail. You'll get informed as soon as your electronic documents are ready, even before you receive your ordered products.
Efficient with Time
You can access the electronic version of your quality control documents 24/7, right through your online account.
No More Clutter
With fewer paper copies to organize, you will save your efforts for your valuable research.
Why can customers use $1 dollar to plant one tree? Where will the trees be planted?


GenScript will donate the $1 per order to American Forests on behavior of green account customers. And for American Forests, $1 is the average cost of planting one wildlands tree. The trees will normally be planted in a priority threatened forest; you can learn more about this from American Forests.

How will GenScript donate the $1 per order to American Forests on behavior of Green Account customers?


As long as Green Account customers placed an order at GenScript and get this order paid, we will donate the $1 from our incomes. However, for orders <$1, we will not carry out the donation.

When will GenScript do the donation? Can customers check the donation by themselves?


GenScript will do the donation regularly. And from Oct 2018, you can check the donation in the Donation Details section below.
Join our program to protect the environment, with a priceless reward of a better planet for you, your family, and the generations to come!
Note: The final explanation rights of Paperless Program are reserved by GenScript. Please contact our tech-support team (techsupport@genscript.com) with any questions about this program.