Hit Generation and Screening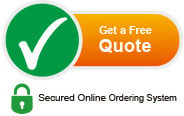 In certain publications, hit generation, screening, lead selection, lead optimization and characterization are collectively referred to as "Lead Discovery", classified under "Late Stage Research" activities. Activities typically include generating early antibody candidates [hits]. Technologies typically include hybridoma, phage display and yeast display platforms.
Hybridoma technology: Classical technology to produce high-affinity rodent Abs1. Schematic below illustrates the principle.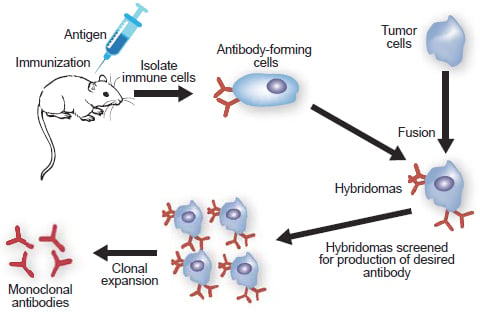 Figure 1: Technology involves forming hybrid cell lines (called hybridomas) by fusing an antibody-producing B cell with a myeloma (B cell cancer) cell that is selected for its ability to grow in tissue culture, in order to produce monoclonal antibodies.
Phage display: It is an in vitro selection technique in which a peptide or protein is genetically fused to a coat protein of a bacteriophage, resulting in display of the fused protein on the exterior of the phage virion, while the DNA encoding the fusion resides within the virion2-4. This physical linkage between the displayed protein and the DNA encoding it allows screening of vast numbers of variants of the protein, each linked to its corresponding DNA sequence, by a simple in vitro selection procedure called "biopanning".
Description: Diverse human Ig-variable-region gene segments (such as scFv or Fab fragments) are amplified from human B cells of immune or non-immune sources to construct the antibody library. The library is then cloned for display on the surface of the phage. Selection against the desired target is then performed using the phage display library; antibodies that do not bind are washed away and the binders are eluted and amplified by infection of E. coli. After multiple rounds of such selection, desired specificity can be screened using ELISA [or FACS if a cell-membrane bound protein is the target]. Once the desired specificity is obtained, the genes of antibody variable regions can be cloned into whole human IgG expression vectors and transfected into cell lines to produce fully human mAbs5.
In its simplest form, biopanning is carried out by incubating the pool of phage-displayed variants with a target of interest that has been immobilized on a plate or bead, washing away unbound phage, and eluting specifically bound phage by disrupting the binding interactions between the phage and target. The eluted phage is then amplified in vivo and the process repeated, resulting in stepwise enrichment of the phage pool in favor of the tightest binding sequences. After a few rounds of selection/amplification, individual clones are characterized by DNA sequencing6,7. Main advantage of this technology is the ease of screening and its HTP nature.
Figure 2: Three major steps are included in this technique:

Antibody library construction and display onto the phage surface
Selection by panning the library against antigen (Ag) targets
Screening for desired specificity
Yeast display: Similar to phage display. Protein of interest fused to yeast surface protein8. One of the most significant features of this approach is the use of eukaryotic host which possesses the secretory biosynthetic machinery to facilitate oxidative protein folding and glycosylation. And hence this technique is well suited to the display of mammalian-derived cell surface or secreted proteins9,10. In addition to Abs, yeast display has also been used to optimize proteins such as IL-2, T-cell receptors, integrins and epidermal growth factor receptors11-14.
Ribosome display: Ribosome display is an in vitro method for display of peptides or proteins centered around the formation of a complex of mRNA, ribosome and translated peptide or protein of interest15,16. Conditions are optimized such that the complex is stabilized to the extent that libraries of variants can be screened against potential binding partners. The coupling of genotype to phenotype that is at the core of all display technologies exists in ribosome display. The gene that encodes the protein of interest is engineered with an efficient promoter and the ribosome binding site and the fusion of a tether that allows display of the folded protein outside of the ribosome tunnel. The construct lacks a stop codon causing translation to stall. High concentration of magnesium, combined with low temperature conditions increases the stability of the complex. Incubation with the antigen is performed, and elution of select clones is performed by dissociation of the complex with the addition of chelating agents. RT-PCR amplification is performed to enrich the gene that encodes the protein of interest.
Basically, display technologies allow generation of human Abs without the need for humanization. Initial hits from this process may exhibit low affinity in which case a process called affinity maturation may be required.
Screening
The word "screening" can be used very broadly. It can be loosely used to identify Abs with high titers, identify ideal expression conditions for Ab production etc. In Ab drug discovery, screening involves a lot of preparation and is typically the bottleneck of the entire process17. High quality reagents and optimized assays are key for successful screening outcome. Reagents include materials used to develop screening assays, antibody generation and for mechanistic studies. Examples are cDNA, expression plasmids, cell lines, purified proteins, reference antibodies, target orthologs etc. If companies are outsourcing their projects at this stage, they are very particular about the quality of reagents. For example proteins purified by CROs are typically validated in-house for purity, aggregation, endotoxin, bioactivity etc. Screening steps typically include screening assays [primary, secondary, tertiary assays], in vivo efficacy studies, PK/PD, toxicity studies. This comes after early Ab candidates (hits) have been generated. The screening library consists of cDNA or proteins. Researchers generate proof-of-principle efficacy data in relevant in vitro/in vivo models with surrogate agent17.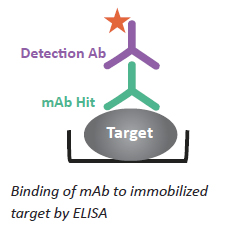 Primary screening: Typically a binding assay - measures Ab binding to target antigen to identify "hits". ELISA in 96- or 384-well HTP format is most commonly used. Antigen is immobilized to ELISA plate and Ab is added to plate. Bound Ab is detected with secondary Ab. FACS is another primary screening option.
Figure 3: Schematic on right illustrates principle.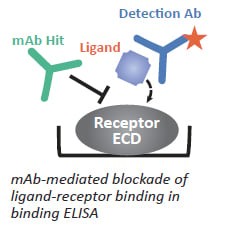 Secondary screening: Designed to measure bioactivity in addition to binding. Typically it's a plate-based functional assay in HTP format. Example would be plate-based ligand/receptor binding ELISA to identify Abs that block ligand-receptor interactions.
Figure 4: Schematic on right illustrates principle.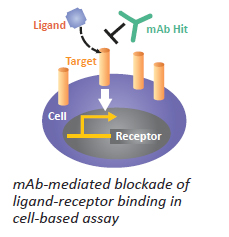 Tertiary screening: Designed to measure bioactivity in addition to binding. Typically it's a low-throughput cell-based assay. Example would be cell-based ligand/receptor binding assay with a signaling readout.
Figure 5: Schematic on right illustrates principle.
What else is required during the screening step?
Positive control: Can be commercially available with function similar to the Ab lead. It can be a polyclonal Ab or it can be Ab reconstructed from sequences in public domain including competitor's patented Ab.
Negative control: Should be of same species and isotype as the lead Ab. Should not bind proteins expressed in the model system. Animal models may also be initiated during this phase since this process may take years to complete.
The previous section in this series is "Target Identification and Validation". To review, click here
GenScript Antibody Drug Discovery Services
Antibody Discovery: GenScript's Antibody Engineering group can build antibody library with up to 1010 individual clones, to speed up your antibody discovery efforts.
Antibody Sequencing: GenScript's advanced Antibody Sequencing technology offers fast and professional sequencing services for your monoclonal antibodies.
Assays: GenScript has developed several cell-based ADCC/CDC functional assays to profile the efficacy and potency of your therapeutic antibodies using proprietary recombinant effector cells.
Antibody Engineering: GenScript scientists' extensive experience in antibody engineering can provide superior services such as antibody humanization, affinity maturation and more.
Antibody Production: With solid expertise in recombinant antibody (rAb) production techniques, GenScript provides a comprehensive rAb service portfolio that deliver microgram to gram quantities of pure rAb for each stage of your Ab drug discovery program.
PK/PD Study: GenScript offers over 120 tumor and inflammation models for evaluation of in vivo efficacy, PK/PD, biomarker and bioanalysis studies. GenScript Anti-idiotype Antibody services are also a powerful tool for antibody drug PK/PD and immunogenicity studies.
You can also view our Recombinant Antibody Service Selection Guide to identify services that are the best match for your application.
References
Kohler, G. & Milstein, C. Continuous cultures of fused cells secreting antibody of predefined specificity. Nature 256, 495-497 (1975).
Kehoe, J. W. & Kay, B. K. Filamentous phage display in the new millennium. Chem Rev 105, 4056-4072, doi:10.1021/cr000261r (2005).
Smith, G. P. Filamentous fusion phage: novel expression vectors that display cloned antigens on the virion surface. Science 228, 1315-1317 (1985).
McCafferty, J., Griffiths, A. D., Winter, G. & Chiswell, D. J. Phage antibodies: filamentous phage displaying antibody variable domains. Nature 348, 552-554, doi:10.1038/348552a0 (1990).
Marasco, W. A. & Sui, J. The growth and potential of human antiviral monoclonal antibody therapeutics. Nat Biotechnol 25, 1421-1434, doi:10.1038/nbt1363 (2007).
McGuire, M. J., Li, S. & Brown, K. C. Biopanning of phage displayed peptide libraries for the isolation of cell-specific ligands. Methods Mol Biol 504, 291-321, doi:10.1007/978-1-60327-569-9_18 (2009).
Ehrlich, G. K., Berthold, W. & Bailon, P. Phage display technology. Affinity selection by biopanning. Methods Mol Biol 147, 195-208, doi:10.1385/1-59259-041-1:195 (2000).
Boder, E. T. & Wittrup, K. D. Yeast surface display for screening combinatorial polypeptide libraries. Nat Biotechnol 15, 553-557, doi:10.1038/nbt0697-553 (1997).
Pepper, L. R., Cho, Y. K., Boder, E. T. & Shusta, E. V. A decade of yeast surface display technology: where are we now? Comb Chem High Throughput Screen 11, 127-134 (2008).
Levin, A. M. & Weiss, G. A. Optimizing the affinity and specificity of proteins with molecular display. Mol Biosyst 2, 49-57, doi:10.1039/b511782h (2006).
Chao, G., Cochran, J. R. & Wittrup, K. D. Fine epitope mapping of anti-epidermal growth factor receptor antibodies through random mutagenesis and yeast surface display. J Mol Biol 342, 539-550, doi:10.1016/j.jmb.2004.07.053 (2004).
Jin, M. et al. Directed evolution to probe protein allostery and integrin I domains of 200,000-fold higher affinity. Proc Natl Acad Sci U S A 103, 5758-5763, doi:10.1073/pnas.0601164103 (2006).
Holler, P. D. et al. In vitro evolution of a T cell receptor with high affinity for peptide/MHC. Proc Natl Acad Sci U S A 97, 5387-5392, doi:10.1073/pnas.080078297 (2000).
Rao, B. M., Driver, I., Lauffenburger, D. A. & Wittrup, K. D. Interleukin 2 (IL-2) variants engineered for increased IL-2 receptor alpha-subunit affinity exhibit increased potency arising from a cell surface ligand reservoir effect. Mol Pharmacol 66, 864-869, doi:10.1124/mol.66.4. (2004).
Lipovsek, D. & Pluckthun, A. In-vitro protein evolution by ribosome display and mRNA display.J Immunol Methods 290, 51-67, doi:10.1016/j.jim.2004.04.008 (2004).
Hanes, J. & Pluckthun, A. In vitro selection and evolution of functional proteins by using ribosome display. Proc Natl Acad Sci U S A 94, 4937-4942 (1997).
Shih, H. H. in Development of Antibody-Based Therapeutics   (ed M.A; Bornstein Tabrizi, G.G.; Klakamp, S.L.) Ch. 2, 9-32 (Springer, 2012).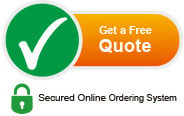 Quotations and Ordering

Our customer service repsentatives are available 24 hours a day, Monday through Friday, to assist you.