- Fast turnaround: as soon as 10 business days
- Affordable prices: starting at $840
- Double Assurance: Antigen-rAb binding assay to validate sequence accuracy
Antibody Sequencing Services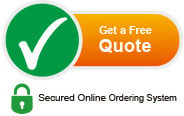 The antibody sequence information is essential for monoclonal antibodies (mAbs) engineering, function optimization, database banking, and patent application. Our ISO9001 certified antibody sequencing service is your reliable choice to speed up and facilitate therapeutic antibody leads discovery and development. Tailored to meet your particular requirements, option with customized specifications is offered for antibody sequencing services at GenScript.
Superb accuracy: 100% money back guarantee on sequence accuracy
Competitive pricing for high quality: Starting at $840 for all species
Short turn-around time: 6 days for full length antibody sequencing- Our record!
Rich experience with over 4,000 cases on sequencing human, mouse, rat, and rabbit mAbs
Double assurance: Antigen-rAb binding assay to validate sequence accuracy in $799
Antibody Sequencing: Top 3 Mistakes to Avoid
Our expertise helps you avoid common pitfalls when sequencing antibodies: 1) impurity of hybridoma cells, 2) mutations introduced by PCR, and 3) inaccurate or misaligned full sequences. Learn more from our success to overcome these problems »
Impurity of hybridoma cells: (hybridomas may contain pseudogenes and mRNAs encoding non-functional antibodies, which may be amplified by primer pairs intended to clone the target antibody)
GenScript will sequence 5 independent clones for each chain, to ensure accuracy.
GenScript can also express the whole IgGs in a mammalian expression system and further confirm the antigen-antibody binding performance to double-ensure accuracy.
Mutations introduced by PCR: During the amplification of the cDNA, the use of degenerate primer sets means there is the chance of mutagenesis.
GenScript always uses both 5'- and 3'- RACE (rapid amplification of cDNA ends) to ensure accuracy of amplified products.
GenScript always performs full length sequencing of the variable region, which ensures the accuracy of the sequence span, from leader sequence to the start of FR1 region.
Inaccurate or misaligned full sequence (once the individual sequences are obtained for each chain, they must be aligned properly to ensure the full sequence is accurate)
GenScript has sequenced over 4,000 mAbs, our expertise ensures the sequence you receive is 100% accurate.
Antibody Sequencing Services
Service
PriceUpgraded!
Turnaround TimeUpgraded!
Deliverables
Antibody Sequencing
Leader sequence & variable domain sequencing
$960*
10 business days

Final sequence report with CDR annotated
Sequence data#
Alignments of the heavy and light chains#
Plasmid containing antibody coding sequence#

Full length antibody sequencing
$1,600*
10 business days
Antigen-rAb Binding ConfirmationRecommended!
1mg recombinant Ab expression & one-step purification
$799@
18 business days

Purified ab
QC report&
Expression level report

Antigen-rAb binding test by indirect ELISA

Free

5 business days
ELISA Binding report
*Discount for batch order
#Upon your request
@Applicable to human IgG1, human IgG4 and mouse IgG2.
&QC data includes A280 for Antibody concentration, SDS-PAGE for purity assessment, and Western Blot
Customer provides
For sequencing services: Client will need to submit hybridoma cell samples (>1×106 cells) to GenScript.
For antigen-antibody binding confirmation service: Client will need to submit 20 μg antigen (>85% purity, >0.4mg/ml) in the buffer without SDS, CHAPS, TWEEN, TRITON and PMSF.
GenScript delivers
For sequencing services: Final sequence report with leader sequences and CDR region annotated/ Final sequence report with leader sequences, constant region and CDR region annotated.
Sequence data, alignments of the heavy & light chains (additional $100), plasmid containing antibody coding sequence (additional $100) is available upon your option.
For antigen-antibody binding confirmation service: GenScript delivers 1mg recombinant antibody synthesized from hybridoma sequence, QC, expression level and ELISA binding test report.
The client retains all rights to the sequence data and all related intellectual property.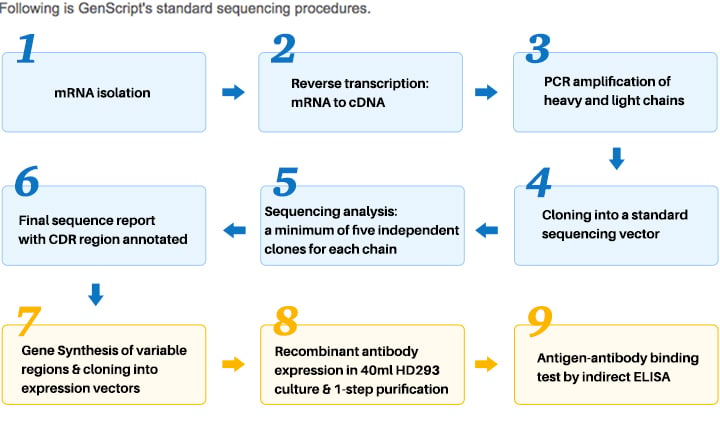 GenScript offers our customers a one-stop solution for all outsourcing needs, providing comprehensive upstream and downstream services of monoclonal antibody sequencing service.
Why do you need Antibody Sequencing?
Security

Avoid problems like gene loss & gene mutations, etc.

Engineering

Accelerate Engineering work

IP Protection

Patent the sequences of your
unique variable domains
Why do you need Recombinant Antibody Expression?
Reproducibility

Batch-to-Batch consistency

Scalability

Cut in half the timeline for resupply of ab

Animal-Free

Avoid introduction of animal-soured materials to generate immune response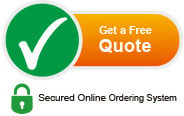 Quotation and Ordering
Please contact us mentioning "Discovery Biology", our customer service representatives are available 24 hours a day, Monday through Friday to assist you with Form preparation.