Metabolic Pathway Assembly Service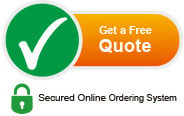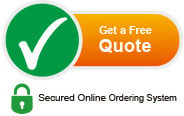 Metabolic Pathway Engineering is a powerful approach to optimize production of desired biomolecules, but assembling and validating the DNA constructs encoding re-engineered metabolic pathways can be laborious. Our Metabolic Pathway Assembly service allows you to focus on design while we perform the molecular biology. Going beyond our expertise in gene synthesis, we offer customizable services to assemble genetic components into full-length constructs or modular libraries.
Metabolic Pathway Assembly Service Specifications
Research Strategy
Recommended Service
Deliverable Format
How to Order

Rational Design

Metabolic Pathway Assembly –
Constructs
Cat. No. SC1702

Individually sequence-verified plasmids, 4µg per construct
Price and turnaround depend upon sequence length, complexity, and number of constructs desired.

Library Screening

Metabolic Pathway Assembly –
Library
Cat. No. SC1707

10 μg of pooled plasmids
Price and turnaround time depend upon sequence length, complexity, theoretical library size, and validation requests e.g. restriction analysis and sequencing to confirm accuracy and diversity of pooled library.
Workflow of Pathway Assembly for
Metabolic Engineering & Synthetic Pathway Optimization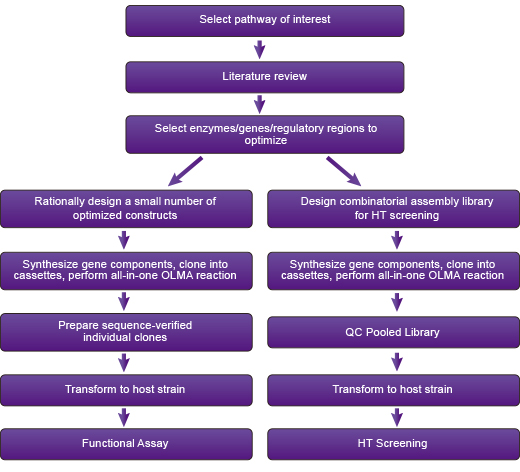 Our proprietary Oligo Linker Mediated Assembly (OLMA) technology was developed by, and is exclusively licensed through, our academic research partners Dr. Chunbo Lou and Dr. Yong Tao of The Institute of Microbiology of the Chinese Academy of Sciences (IMCAS). OLMA offer several advantages:
one-step assembly of gene components to create modular libraries with high levels of accuracy, coverage, and diversity.
oligo linkers can be designed either as functional segments (e.g. encoding RBS variants to tune the translation initiation rate in prokaryotic hosts) or to enable seamless assembly between conserved regions.
flexibility to choose whether to preserve the order of gene components, link the order of only specific components, or shuffle the order of components across the entire construct.
flexibility to define a modular unit any way you like; you can define promoter-gene-terminator cassettes,  or vary domains within a coding region – any design you can imagine, our technology can accommodate!
Our in-house scientists have performed numerous case studies with diverse assembly design strategies. We will discuss all parameters of the assembly project design with you to customize each experiment for your needs.
Metabolic Engineering is a powerful approach to optimize genetic circuits, such as biosynthetic pathways that drive "cellular factories" for efficient, industrial-scale production of natural products, such as:
More efficient synthesis of valuable biomolecules (natural products). Natural products can often be obtained from plant extracts or from total chemical synthesis of the desired compound, but purification from natural sources can be problematic due to the need to resolve complex mixtures of closely related compounds, and our current best methods for chemical synthesis are limited by low yield and low specificity requiring additional painstaking purification. As an alternative approach, metabolic engineering allows biosynthetic pathways to be reconstructed in model organisms so that useful quantities of the desired product can be harvested. Flavanoid, Isoprenoids, polyphenols and other natural metabolites are often synthesized in microbiological hosts such as Escherichia coli, but other prokaryotes, yeast, plant, or other hosts can be used as well.

In one example, Brazier-Hicks and Edwards developed a method for efficient production of C-glycosylated flavanoids for dietary studies by using gene synthesis to re-engineer a metabolic circuit in yeast. They designed synthetic variants of five genes that comprise the flavone-C-glycoside pathway in rice plants, which were subsequently codon-optimized for expression in yeast. These synthetic genes were used to construct a polyprotein cassette that expresses the entire metabolic circuit in a single step.



Protein Production Scale-Up: Metabolic pathway engineering can be used to enhance protein yield for any large-scale protein purification needs; when the expression and stability of your protein of interest depends upon multiple enzymatic steps, metabolic pathway feedback loops, or checks on protein modification or degradation, then your experiments require more than a simple expression cassette with a strong promoter driving your protein of interest. Even if you only need to express one protein, the same approach of modular assembly can be used to find the optimal combination of different promoters, ribosome binding sites, codon-optimized ORFs, and terminators that maximize the yield of soluble, properly-folded protein.


Sustainable alternatives to petroleum products. Most organic chemicals used today are derived from petroleum, but it's been estimated that up to 2/3 of those could be generated from renewable raw materials rather than oil, which could bring both economic and environmental benefits. The U.S. Department of Energy has provided grant funding for metabolic engineering projects undertaken in industrial as well as academic settings that could yield new bio-based production facilities for widely-used biomolecules. While most efforts to develop biofuels have focused on carbohydrates and related compounds, Dellomonaco et al. showed that fatty acids can serve as biomass for sustainably produced biofuels by using gene synthesis to engineer several native and heterologous fermentative pathways to function in E.coli under aerobic conditions. These synthetically engineered bacteria convert fatty acid-rich feedstocks into desirable biofuels (ethanol and butanol) and biochemicals (acetate, acetone, isopropanol, succinate, and propionate), with higher yield than more widely used lignocellulosic sugars.
Metabolic Pathway Optimization approaches that can be used alone or in combination include:
Altering the relative expression levels of multiple enzymes in a circuit, which can often be achieved by mixing and matching gene regulatory elements such as ribosome binding sites (RBS) in prokaryotic hosts or eukaryotic promoters or terminators.
Mining naturally-occurring genetic diversity by using homologs, orthologs, or infologs with subtle differences in enzymatic activity to manipulate metabolite flow through a biosynthetic pathway.
Codon optimization (or "de-optimization"), which introduces synonymous mutations that can alter translation rate and other steps in protein expression.
The International Genetically Engineered Machine (iGEM) Competition showcases synthetic biology and metabolic engineering innovations that create new tools for research, healthcare, energy, or environmental applications. In the 2014 Jamboree, GenScript-sponsored teams won accolades for their work to develop novel genetic circuits that turned their genetically engineered bacteria into "cellular factories" to purify water of heavy metals or methane, to keep burn wound sites free of infection, to produce biodegradable elastin polymers that could replace plastics, and to detect pathogenic bacteria. Read more about the projects of GenScript-sponsored iGEM teams from 2009-2014.
To download a printable PDF of this case study, click here.
For quotation requests, you may:
Orders can be placed by phone, email, or fax with a formal PO (Purchase Order) or credit card.
Our global team of Ph.D.-level gene service representatives are available 24 hours Monday through Friday by email or phone (1-732-885-9188). We can discuss your metabolic pathway optimization goals and help manage your assembly projects from sequence design, optimization, synthesis, cloning and beyond without any additional charges (certain Terms and Conditions Apply).
Custom project details are kept strictly confidential, with all intellectual property rights belonging to the client. GenScript does not claim any rights to specialized synthetic or OptimumGene™ codon optimized genes.