Hot Start PCR is a widely used technique that inhibits Taq DNA polymerase activity during PCR reaction preparation until a heat activation happens. Antibody-medicated, chemical modification and aptamer-medicated methods are all feasible to limit the Taq DNA polymerase activity. GenScript offers proprietary Hot Start Taq Antibody (anti-Taq DNA polymerase antibody) for antibody-medicated Hot Start PCR. Hot Start PCR improves specificity of target gene fragment amplification, as well as increases the yield of targeted fragment.
Taq DNA polymerase (Cat. No. E00007) and Hot Start Taq Antibody (Cat. No. A01849) mixtures were used in PCR reactions. The amplified target DNA fragment is 500 bp from HPRT gene. The PCR products were analyzed by agarose gel (see figure 1). The non-specific PCR products were observed in the lanes without Hot Start Taq Antibody added, and fewer non-specific PCR products were amplified when higher units of Hot Start Taq Antibody used. Hence, Hot Start Taq Antibody-medicated Hot Start PCR can notably improve the specificity of target gene amplification and increase the yield of PCR products.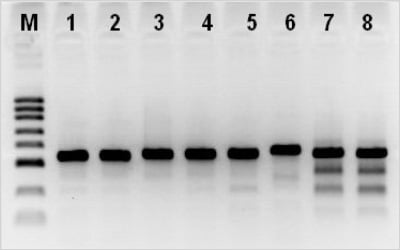 Figure 1: PCR products analysis by agarose gel. The Hot Start Taq Antibody (Cat. No. A01849) used in lane 1 and 2 is 2 U, in Lane 3 and 4 is 1 U, in Lane 5 and 6 is 0.5 U, and in lane 7 and 8 is none.