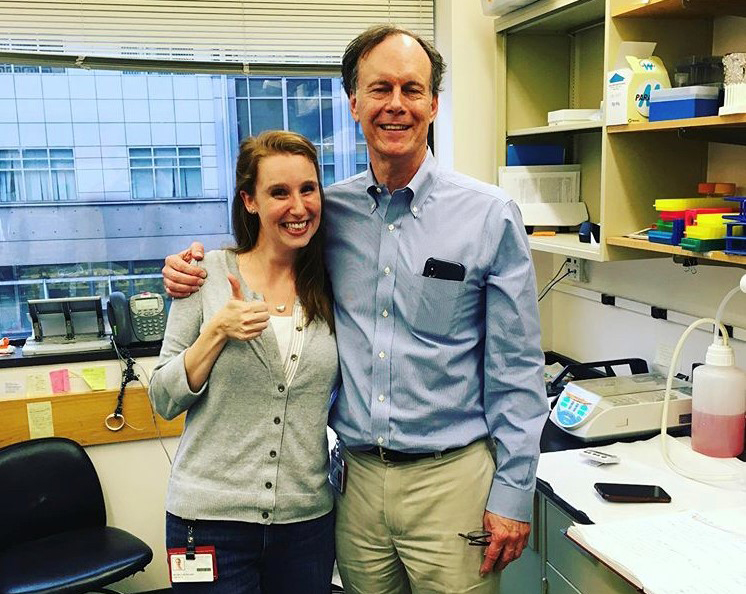 On Oct. 7th, 2019, the Nobel Assembly announced that William G. Kaelin, Jr., Dana-Farber Cancer Institute, shares the 2019 Nobel Prize in Physiology or Medicine with Sir Peter J. Ratcliffe of Oxford University and the Francis Crick Institute, and Gregg L. Semenza of Johns Hopkins University, for their discoveries of how cells sense and adapt to oxygen availability.
In this episode Tracy interviews Hilary Nicholson, Ph.D., a postdoc research fellow in Kaelin Lab at Dana-Farber Cancer Institute. Hilary talked about her perspectives of Dr. Kaelin receiving the Nobel Prize, how Dr. Kaelin mentors and inspires her, and how her work is built upon this textbook discovery.
Hilary is the first author of a recent publication on Science Signaling, "HIF-independent synthetic lethality between CDK4/6 inhibition and VHL loss across species". Kidney cancer is one of the top ten most common forms of cancer in developed countries, and the most common type of kidney cancer is clear cell renal cell carcinoma (ccRCC). The von Hippel-Lindau tumor suppressor gene (VHL) inactivation is associated with ccRCC development, and hypoxia-inducible factor 2 alpha (HIF-2 alpha) is accumulated.
Hilary talks about synthetic lethality between CDK4/6 inhibition and VHL loss in two species and across various human ccRCC cell lines in culture and xenografts; The study also shows that HIF-2 alpha was not required for the synthetic lethality. "These findings support testing CDK4/6 inhibitors as treatment for ccRCC, alone and in combination with HIF-2 alpha inhibitors".
In addition, Hilary introduced the Science Cheer leaders, a non-profit organization comprised of 300+ current and former NFL, NBA and college cheerleaders pursuing STEM careers.