Join Forces | GenScript Biotech & REMD Biotherapeutics Inc. Reached a Strategic Collaboration to Develop Several Bispecific Antibodies
Apr. 26, 2019 Nanjing, China · Camarillo, California, US —— GenScript Biotech Corporation, a world leading bio-pharmaceutical CDMO company, has entered into an exclusive strategic drug development cooperation with REMD Biotherapeutics Inc. (hereinafter REMD) on several bispecific antibodies.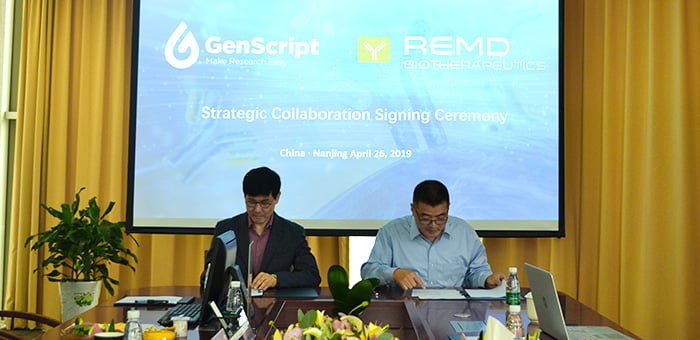 According to the Agreement, GenScript will allow REMD to use its SMAB (Single-Domain Antibody fused to Monoclonal Ab) Platform, a bispecific antibody platform, to develop novel tumor immunotherapy drugs. GenScript will help REMD with candidate bispecific antibody drug development and provide a variety of technical support and services. REMD will pay GenScript service fees, commercialization milestone payments and a certain percentage of its global sales revenue of the pertaining products after launch.
"We are glad to enter into a strategic cooperation with GenScript on bispecific antibody drugs," said Dr. Hai Yan, co-founder and CEO of REMD, "At REMD, we focus on the development of novel antibody drugs. Our core R&D scientists are recruited from Amgen's team. Our clinical product, anti-glucagon receptor REMD-477 is under Phase II clinical trials in the US for treatment of different types of diabetes, and has added heart failure as its new indication. Over the years, REMD has worked closely with GenScript on innovative drug discovery and development, and produced quite a collection of novel antibody molecules. We believe in time the special SMAB Platform will create more unique molecules for tumor immunotherapy. Our cooperation with GenScript allows us to join forces, which will bring us GenScript's platform and experience in antibody drug research and development and expand our novel antibody drug pipelines."
Dr. Brian Min, CEO of Biologics Development Business Unit of GenScript, attended the signing ceremony. "We are happy to see scientists who are previously coworkers at Amgen are starting a new journey together. And we are honored that our SMAB Platform is deepening our strategic partnership with REMD. Empowered by this one-stop bispecific antibody development platform, REMD is actively engineering antibody drugs against tumors, and exploring and shaping the landscape of the next-generation antibody immunotherapy. Supported by the outstanding developability and simpler production processes of SMAB Platform, as well as rich drug development experience and highly-coordinated team of REMD, we expect more patients will benefit from better treatments soon."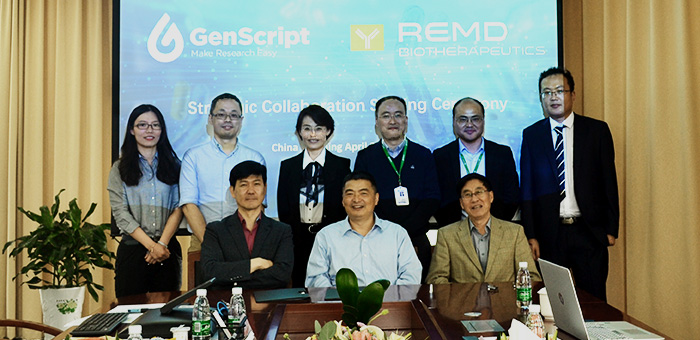 About GenScript's SMAB Platform
Bispecific antibodies are artificially engineered antibodies capable of binding with two different epitopes of an antigen. Compared with mAb (monoclonal antibodies), they are proven by many studies to have better potency and improved safety. Among various bispecific antibody platforms, GenScript's SMAB Platform is highly distinctive in that it creates such hybrids by fusing sdAb (single-domain antibody) to mAb, the most natural bispecific antibodies in the world that require no sequence mutation and minimum engineering. Being natural mitigates many problems with traditional bispecific antibody platforms, including immunogenicity risks, developability issues and mass production difficulties. It would take only 3-5 months for SMAB screening and evaluation and 14-15 months for preclinical CMC development, which is highly efficient and produces deliverables with equivalent developability as monoclonal antibodies. In addition, the flexibility of sdAb enables SMAB to bind with hidden epitopes such as enzymes and ionic pathways, and allows an easy engineering of multivalent molecules, thus significantly boosting its application value.
About GenScript
GenScript Biotech Corp. is a world leader in the biological reagent service industry. Headquartered in Nanjing, China, the Group currently has a couple of R&D, production and operation centers in Nanjing and New Jersey, two production bases in Zhenjiang and Jinan, two European bases for its subsidiary Legend in Netherlands and Ireland, and a wholly-owned subsidiary in Japan.
With the fast growth in developing biological reagents, the Company now expands its business into immunotherapy, contract development and manufacturing organization (CDMO), lab equipment and industrial microbiology applications. To support these businesses, it has established open and innovation-driven technological platforms, GMP facilities for pre-clinical drug discovery and pharmaceutical product development and a full-range industrial microbial R&D and industrialization platform for enzyme screening, GMP plasmid and virus production, antibody drug discovery (Bispecific antibodies technology; Hybridoma technology; Humanized Antibody technology; Phage display technology), genetic engineering, protein engineering and fermentation process optimization. The Company is uniquely positioned and well equipped to further fulfill its mission in making people and nature healthier through biotechnology.
About REMD Biotherapeutics Inc.
REMD Biotherapeutics is a privately held, clinical-stage biotechnology company focused on creating and developing innovative protein-based therapies to treat metabolic diseases and other serious illnesses. The Company was founded by two former Amgen research scientists and has facilities in Camarillo, California and Beijing China (Cosci-REMD Biotherapeutics). Our lead product candidate, REMD-477—a fully human antibody to the glucagon receptor—is presently in clinical studies for treatment of diabetes as well as in preclinical studies for treatment of other metabolic disorders. Our discovery research leverages our extensive expertise in generating and developing therapeutic antibodies to G protein-coupled receptors (GPCRs) as well as to other multi-transmembrane cell surface antigens.