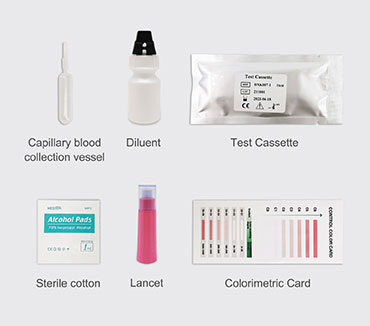 Specifications
Each kit provides the necessary materials for the test, including:

Individually packaged test cards
Sample buffer
Lancet device
Capillary collection tube
Alcohol pad

This test provides a Qualitative result.
Sample type: Blood, serum or plasma by venous collection or fingerprick blood sample
Store at 4-30°C until use
18 month shelf life
Recommended usage
This test does not diagnose a SARS-CoV-2 infection.
The CE-IVD at-home authorization is a non-prescription EU authorization that allows individuals to evaluate their immune response to COVID-19 vaccination or infection in a home-based setting.
The test is also offered in a Research Use Only format, where applicable, and is not to be used in diagnostic procedures.