Mutant Libraries (Protein Engineering)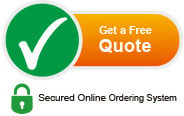 Mutant libraries representing protein variants are increasingly used to identify structurally and functionally critical residues and to optimize protein function. Protein Engineering involves screening mutant libraries for novel proteins that show enhanced expression levels, solubility, stability, enzymatic activity, or interaction with desired binding partners. GenScript's strong expertise in de novo gene synthesis, coupled with our new GenPlus next-generation gene synthesis technology, allows us to synthesize rationally-designed or systematic mutant libraries as individually-sequenced clones with 100% sequence accuracy guaranteed. GenPlus gene synthesis technology is an ideal, cost-effective tool for constructing small- to medium-sized mutant libraries (up to 105 unique variants). GenScript also offers randomized and degenerated libraries with library complexity up to 109 delivered as dsDNA, clones in your choice of plasmid vector, or transformants in glycerol stocks.
Services:
1. Site-Directed Mutagenesis Libraries
Cat. No.: SC1153
GenScript combines its expertise in de novo gene synthesis and site-directed mutagenesis into an excellent site-directed mutagenesis library construction service. The site-directed mutagenesis library offers a great platform for protein function and active center studies. In these libraries, any given residue can be substituted with any of other 19 common amino acids, creating systematic combinations of amino acid mutations that reveal any significant pattern.
The final delivery of our site-directed mutagenesis library includes the following:
2. Scanning Point Mutation Libraries
Cat. No.: SC1154
Scanning point mutation is a systematic means of improving protein performance. It outperforms standard alanine/cysteine scanning by replacing each amino acid with all 20 amino acids simultaneously. This technique provides a detailed profile of each amino acid at the position. For each codon of interest, a small, site-saturated library is constructed. This library can be delivered as a pool or in a separated format for any substitution variant (19 in total). The application of GenScript's expertise in de novo gene synthesis to the field of sequential permutation scanning allows us to provide superb sequential permutation scanning library construction services.
The final delivery of our scanning point mutation library includes the following:
3. Randomized and Degenerated Libraries
Cat. No.: SC1155
With our advanced degenerated oligonucleotide techniques, GenScript can generate any form of randomization or degeneration of the full-length gene in a synthetic DNA fragment. This permits controlled, highly precise randomization within oligonucleotides.
GenScript's in vitro library synthesis technology can introduce random substitutions on a controlled level with maximum flexibility. The mutation frequency can be set to any value between 1 and 10 mutations per kb. Up to 100 individual transformants will be sequence-verified.
The randomized and degenerated libraries can be delivered in any of two different formats:

Degenerated PCR Products Library (up to 1011 variants) 10 µg of linear DNA ready to clone via 5' and 3' restriction sites.
Cloned Library: Library subcloned into customer's vector. Includes glycerol stock of total library transformants. Glycerol stock, up to 109 transformants.
Our customer service representatives are available 24 hours Monday through Friday. You may contact us anytime for assistance.