Mammalian CHO Expression Services
Transient expression in mammalian cells is crucial when post-translational modifications and appropriate protein folding are desired for downstream applications. CHO (Chinese Hamster Ovary) cells are the principal mammalian host used for recombinant protein and antibody production. The next generation proprietary CHO transient expression developed by GenScript significantly increases the yield and shortens the production time. This is a cost-effective solution which also enables small scale (microgram) to kilogram level protein production based on the same expression system for the best consistency and minimal surprises during the downstream steps.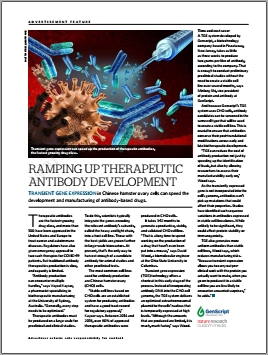 Higher Yield

Reach 2+g/L for transient expression

Shorter TAT

Production time includes gene synthesis

Superior Quality

Full range QC and characterizations
Cost-Effectiveness

Taking advantage of our rich experience

0 Error Rate

Unique QR code tracking and automation

Validated Consistency

Scale-up in the same CHO cell line
Next Generation CHO Transient Expression
Start and finish in the same CHO expression system: From microgram to kilogram level production.
CHO-HT (High Throughput)
CHO-Express
CHO-HP
Requested Protein Amount
Expression Screening or Protein
Delivery (Target amount* 0.1-5 mg)
500 mg or less
500 mg to kilograms
Production Time
Starting from
(Gene Synthesis Included)
2 weeks
3 weeks
6 weeks
Average Yield (Antibody)
300 mg/L
400 mg/L
1.5 g/L
Deliverables
Purity: ≥90%
Endotoxin control*: ≤1EU/mg 
Purity: ≥95% for antibody; ≥90% for protein
Endotoxin level: ≤1EU/mg
Conc. 5-10 mg/mL for antibody; ≥1.0mg/mL for protein
Default QC
SDS-PAGE, A280
SDS-PAGE, SEC-HPLC, endotoxin
Additional QC and
Characterizations
Endotoxin*, LC-MS*
SEC-HPLC
LC-MS
Affinity test, cross-reactivity, epitope mapping, in vitro and in vivo efficacy, stability test by freeze-thaw cycles, sterility test, and more
Purification
Standard 1-step purification
(Optional*: 2- or 3-steps)
Multiple purification steps included
Quotation and Ordering
HT Request Form Request Now
Get A Quote NowRequest Now
Notes: Read More »
This customized solution accepts all types of proteins, antibody species and isotypes, fragments.
All incoming projects are subjected to evaluation.
Additional QC and Characterizations are offered with extra charge upon request.
Production time include gene synthesis.
High Throughput (CHO-HT) production
* Target amount (0.1-5 mg) is based on common isotypes of full length IgG, not guaranteed.
* 2 weeks production time is based on antibody and antibody fragments.
* Random selection of 5% of samples to go through endotoxin and LC-MS analysis. Testing for all samples can be requested with extra charge.
* Extra step purification is offered upon request, by default one-step purification based on protein types.
* 24+ samples required to order High Throughput CHO-HT service.
CHO-Express and CHO-HP production
Pilot expression evaluation can be requested for CHO-HP only.
Our customer service representatives are available 24 hours Monday through Friday. You may contact us anytime for assistance. Orders can be placed online, over the phone, by email or fax. Please have your payment information (credit card, purchase order or bank information) ready.
 

 

Phone:

1-877-436-7274 (Toll-Free);

1-732-885-9188

 

Fax: 1-732-210-0262