Abstract:
This webinar introduces a novel invention using intercellular polymerization of a synthetic peptide precursor to amplify the generation of extracellular vesicles (EVs). While EVs could be advanced therapeutic agents for future medicine, a simple methodology for enhanced EV generation is not currently available. This study showed that by simply adding small peptides to therapeutic cells, the production of EVs in the cells was greatly enhanced when peptide polymerization was activated by enzymes.
In this webinar, we will cover:
Peptide design and synthesis
Direct incorporation of fluorescence sources into EVs
Intercellular polymerization from peptide precursor via enzyme activation
Novel insights into amplified generation of extracellular vesicles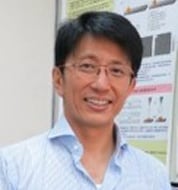 Speaker: Hiroshi Matsui, Ph.D., Professor at City University of New York – Hunter College and Weill Cornell Medical College
Date: May 1st, 2019
Time: 2:00 - 2:45 PM EST
Presenter's Biography:
Dr. Hiroshi Matsui, currently a professor of Chemistry at City University of New York - Hunter College and an adjunct professor at Weill Cornell Medical College, received his M.S. degree from Stanford University, Ph.D. degree from Purdue University and Postdoc training from Columbia University. His work in the fields of Nanotechnology and Biotechnology and the integration of these two areas (i.e., Bionanotechnology) is aiming to produce creative sciences with high technology impacts, including 1) Engineering of novel drug delivery systems integrated from natural and synthetic nanoparticles, 2) Synthesis of extremely small iron oxide nanoparticles in various shapes and their applications, 3) Mechanical study of biological systems.
Related Services
Regular peptide synthesis.
Express peptide synthesis.

Standard peptide library.
Micro-scale peptide library.

cGMP Peptide Synthesis.
Cosmetic Peptide Synthesis.
Related Conferences
Date: May 20-23, 2019
Location: Manchester Grand Hyatt, San Diego, CA