Generating a high quality microscopy image is necessary to acquire scientifically accurate results as well as to publish in a top tier scientific journal. Unfortunately, obtaining a beautiful; fluorescent image can be an extremely cumbersome task. Luckily, Travis Thomson, PhD; an expert in in-vivo immuno-labeling, will reveal his tips and tricks to achieve experimental results and immunofluorescent images worthy to be published in top tier journals like Cell, Nature, and Science!
In this webinar, we will cover:
How to generate the ideal antibody for in-vivo based immuno-labeling of difficult to reach targets.
How to use genetics in conjunction with immune-labeling for visualizing extra- and intracellular trafficking.
Various tips on how to obtain the perfect immuno-labeling microscopy images.


Speaker: Dr. Travis Thomson, Assistant Professor, Univ. of Massachusetts Medical School
Date: Oct. 24th, 2018
Time: 11:00-12:00 PM EST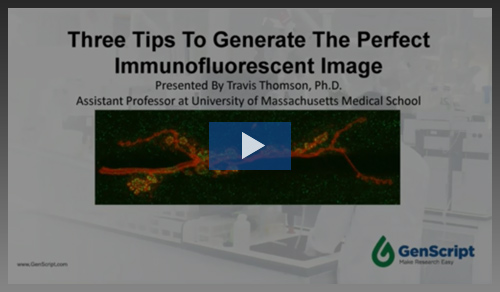 View Webinar Download PPT Slides
Speaker Bio

Dr. Travis Thomson is currently an assistant professor of Neurobiology at the University of Massachusetts Medical School. The focus of his research is on the regulation of synaptic plasticity via endogenous retroviral/transposable elements control, using Drosophila as his model system. Dr. Thomson received his bachelor's degree in Molecular Genetics from the University of Alberta and his PhD degree in Developmental Biology from McGill University. He then continued his career in academia with three postdoctoral fellowships at the University of Massachusetts Medical School Worcester, Yale University School of Medicine, and Yale University Stem Cell Center. Throughout his career, Dr. Thomson has published 18 peer reviewed articles in top tier journals focusing stem cell formation, neural structure and function, and small RNA function.
Related Resources
Learn More
Want to Learn the Benefits of Rabbit mAbs?
Download GenScript's Free MonoRab™ White Paper