Rabbit Monoclonal Antibodies in Tissue Diagnostics
Monoclonal antibodies (mAbs) have revolutionized diagnostic sciences due to their increasing specificity and almost unlimited production potential. Among several animals, rabbits have a more diverse antibody repertoire, greater immunogenic response to small antigens, and can generate strong immune responses against antigens normally non-immunogenic in mice. Because of this, rabbit mAbs have extremely high affinity, specificity, and sensitivity, compared to those generated in mice; making them the primary species used in generating mAbs used in tissue based in-vitro diagnostics (IVD). IVD tests performed on biological samples are a key component of today's healthcare system. They are necessary for prevention, diagnosis, and treatment for almost every disease type. Rabbit mAbs provide more sensitive detection results in diagnostic tests, such as immune-precipitation, radio immunoassays (RA), ELISA, fluorescent immune-assays, electro chemiluminescent assays, immunohistochemistry (IHC), Immunofluorescence (IF) and in situ hybridization (ISH). Therefore, rabbit monoclonal antibodies are the main choice of researchers and clinicians for tissue based IVDs.
Speaker: Dr. Sasidhar Murikinati, is the Associate Product Manager of Antibody Reagent Service Marketing at GenScript USA Inc. Dr. Murikinati holds a Ph.D. degree in Pharmacology from the University of Heidelberg, Germany. He worked as an Application Scientist/ Product Lead with Enzo Lifesciences on development of in-vitro diagnostics, such as IHC, ISH and ELISA. He has done multiple postdoctoral fellowships focusing on vascular occlusions and chronic stroke at Yale, Northwestern University, Louisiana State University, and the University of Manchester.
Date & Time: May 3, 2018; 2:00-3:00 P.M. EST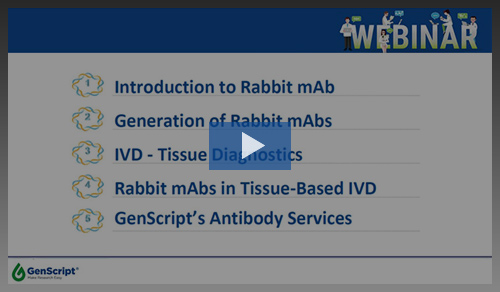 View Webinar Download PPT Slides
Related Services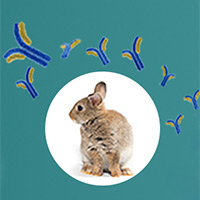 Exceptional Specificity and Sensitivity

Extremely Fast Turnaround Time

Cost Effective Without Licensing Fees
Latest Webinars