20% off any SurePAGE order, use promo code SurePAGE20%OFF,
limited once per customer, can not be combined with other promotions.

GenScript's Precast Gels
High resolution & Robust Separation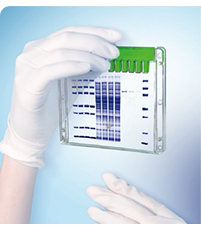 Large well volume – Up to 80 µl for diluted samples
High resolution – Even, sharp bands, guaranteed lot-lot consistency
Long shelf life – Up to 12 months at 2-8℃
Cost effective – 30-50% price reduction compared to other major competitors
Compatible cassette design – Fits all popular mini-gel tanks
GenScript's Bis-Tris precast gel series are high performance polyacrylamide gels that are designed to separate a wide range of protein sizes by electrophoresis. The gels are cast in a neutral pH buffer that minimizes polyacrylamide hydrolysis and increases gel stability. They also run at neutral pH which minimizes protein modification compared to Tris-glycine gels.
GenScript's gel series include-SurePAGE™ Gels which are the premium, higher resolution and reproducibility gels, and ExpressPlus, good quality and very cost-effective gels.
ExpressPlus (Bis-Tris)

SurePAGE (Bis-Tris)

Competitor B (Tris-Glycine)

Homemade (Tris-Glycine)

Competitor T (Bis-Tris)
SurePAGE™ Bis-Tris Gels (10x8)
Free samples of SurePAGE™ (Including MOPS buffer powder) available. Contact us freesample@genscript.com.
SurePAGE™, Bis-Tris gels are a major upgrade from ExpressPlus™ gels with enhanced casting technology that results in better resolution and consistency.
Superior resolution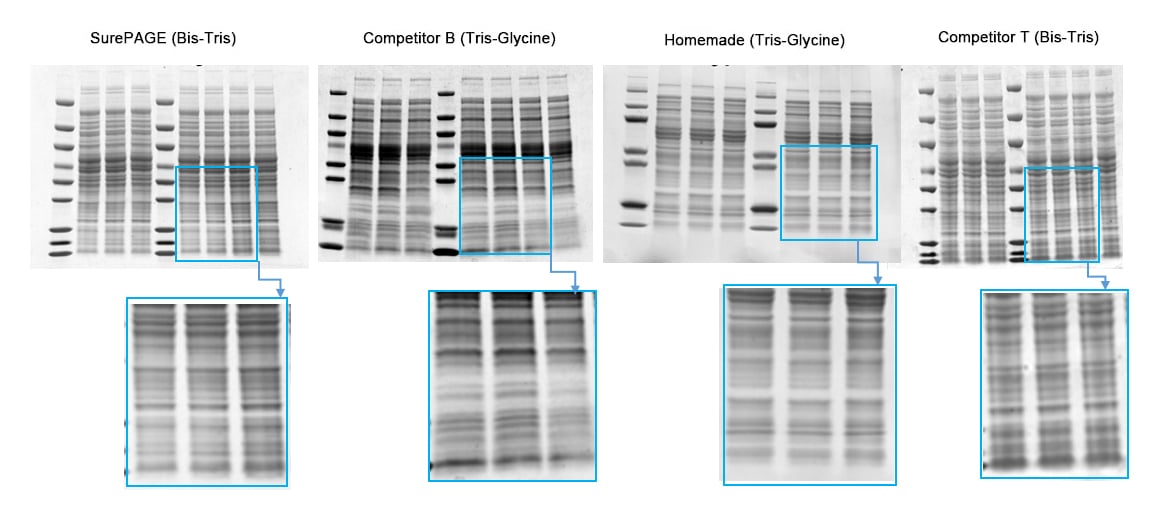 Figure 2: SurePAGE™ gels offer superior band resolution compared to competitors and the homemade Tris-Glycine gels. Lane 1 and 5: protein marker (MM1397), 5µl. Lane 2,,3,4,6,7,8 and 9: E. coli 10ul cell lysate.
Cost effective

Easier loading, Larger well volumes
GenScript Precast gel selection guide
BUY MORE SAVE MORE
Free MOPS running buffer always included!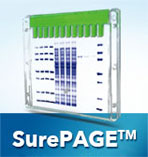 Buy 10 boxes or more and save $10/box!

Buy 5 units (20x5 gels) or more and save $20/unit!