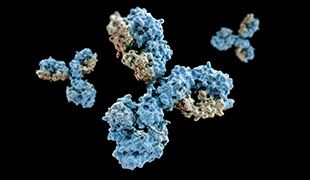 Therapeutic Antibody Discovery Services
Successful Clinical Results for a Novel CAR-T Cell Therapy: Is the Cure for Advanced Myeloma Patients within Our Reach?
With regulatory approval of Chimeric Antigen Receptor (CAR) T-cell therapies for treating patients with aggressive blood cancers, the hope for having found the most effective treatment, or even a cure, seems to be turning into reality. The most recent evidence was the latest clinical study report of LCAR-B38M, a CAR-T developed by one of GenScript's subsidiaries, which was released just last week in San Diego, CA.
During the 60th American Society of Hematology (ASH) annual meeting in San Diego, the Second Affiliated Hospital of Xi'an Jiaotong University reported that results from the phase 1 clinical study on LCAR-B38M in patients with advanced or relapsed refractory (RR) multiple myeloma (MM) have shown profound and long-lasting efficacy, controllable safety and good tolerance. This novel bi-epitope CAR-T immunotherapy was developed by Legend Biotech, a subsidiary of GenScript, and have so far received regulatory approval form both US and China.
During the course of the treatment, autologous T cells were isolated from 57 patients and genetically engineered to express bi-epitope CARs on their surface. By reintroducing these cells back into each corresponding patient, the autologous T cells could specifically recognize and bind the two epitopes on the B-cell mature antigen (BCMA) molecule that is a biomarker of MM. Therefore, the autologous genetically engineered T cells were able to specifically identify and kill MM cancer cells.
In this one-arm, open-ended phase I clinical study, 74% of participating RRMM patients ranging in age between 27-72 years old, were diagnosed as stage III based on the Durie-Salmon criteria. According to the report, the overall response rate to the drug was 88% (95% confidence interval, 76-95) with 74% of patients achieving complete remission (CR) (95% confidence interval, 60-85), 4% good partial remission (VGPR) and 11% partial remission (PR). In particular, in 42 patients who achieved complete remission, bone marrow flow cytometry showed that 39 patients (68%) had negative residual lesions (MRD). The median duration of remission (DOR) was 16 months (95% confidence interval: 12-not reached [NR]), and the median progression-free survival (PFS) of all admitted patients was 15 months. The median progression-free survival of patients who achieved complete remission was 24 months along with a median PFS of 24 months for patients who received an MRD-negative CR.
In this report, authored by Dr. Zhao and colleagues, the most common adverse events were reported to be fever (91%), cytokine release syndrome (CRS) (90%), thrombocytopenia (49%) and leukopenia (47%). Most cytokine release syndromes were mild, with a median to onset time of nine days (range 1-19 days) and duration of nine days (range: 3-57 days). According to this report, among the 57 treated patients, one showed neurotoxicity and seventeen died during the study or during the follow-up period with causes of death being disease progression (PD, 14), suicide after disease progression (1 person), esophagitis (1 person), and pulmonary embolism and acute coronary syndrome (1 person).
This set of data proves the LCAR-B38M to be a great competitor for bluebird and Celgene's bb2121, which last summer reported a median PFS rate of 11.8 months and a PFS rate of 17.7 months in their MRD patient group. With LCAR-B38M's very encouraging results, hopeful doctors, pharmaceutical companies and other involved parties are now working to find sustainable ways for managing cost and access for all MMRR patients.
---
Open-Label Study of LCAR-B38M, a Chimeric Antigen Receptor T Cell Therapy Directed Against B-Cell Maturation Antigen, in Patients with Relapsed/Refractory Multiple Myeloma
https://www.genscript.com/Legend-Biotech-Presents-Updated-Phase-1-2-LCAR-B38M-Data-in-Patients-with-Multiple-Myeloma.html