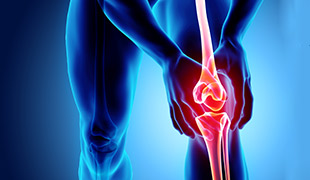 GenScript synthesizes high-quality custom peptides with leading industry speeds to help accelerate your research.
A Novel Peptide-siRNA Nanocomplex in Treating Osteoarthritis
Osteoarthritis (OA), a common joint disease in the aging population, occurs when the cartilage that protects the bone ends wears down over time. OA symptoms include joint pain and stiffness, which negatively impact the patient's quality of life. Intermittent intra-articular (IA) corticosteroid or hyaluronic acid injection has become an ideal OA therapeutic treatment, where local concentration of the drugs increases with the direct access to the joint space. However, the IA delivered drug rapidly clear from the joint cavity, making it difficult to reach to the chondrocytes residing in the avascular cartilage due to the dense extracellular matrix. Moreover, inflammatory responses often arise from post-traumatic OA (PTOA), likely contributing to cartilage degeneration due to chondrocyte apoptosis and impaired cartilage repair.
As NF-kB activation has been observed within hours after joint injury, Yan et al. developed an IA delivery of a self-assembling peptidic nanoparticle (NP) p5RHH, featuring a cell penetrating peptide complexed to p65 small interfering RNA (siRNA) to suppress NF-kB activities. This development significantly reduced chondrocyte apoptosis and reactive synovitis. It was shown that the peptide-siRNA NP freely and deeply penetrated all layers of a thick human cartilage explant simulated osteoarthritis in vitro. The delivered siRNA cargo to the chondrocytes maintained detected for up to 21 days and p65 suppression persisted for up to 3 weeks. These findings suggest the ability of peptide-siRNA NP to specifically modulate NF-kB pathway, a central regulator of the inflammatory responses in chondrocytes, which may potentially mitigate the progression of cartilage degeneration in the joint.
---
Development of a peptide-siRNA nanocomplex targeting NF-kB for efficient cartilage delivery.
DOI: https://www.nature.com/articles/s41598-018-37018-3