Custom Peptide Synthesis
With 15+ years of experience in peptide services, GenScript has been proudly serving 10,000+ scientists worldwide with quick delivery of about 300,000 high-quality custom peptides at >95% success rate. Based on our advanced Flexpeptide ™ Technology Platform and Total Quality Management (TQM) System , GenScript can reliably synthesize high-quality custom peptides with a variety of options for purity, quantity, modifications and length. The list of our peptide publications is a testimony on why GenScript Peptide Services have been trusted by searchers worldwide.
Peptide Synthesis Capacity and Capability
Our custom peptides are synthesized in a 20,000 square feet state-of-the-art facility with peptide synthesizers, HPLCs, and mass spectrometers capable of producing over 10,000 peptides per month. Other features of our capacity and capability include: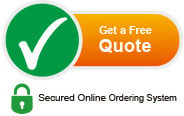 High Capacity: 10,000 peptides / month;
Flexible Quantities: from mg to kg;
Spectrum of Purities: crude, desalted, 70% to 98% purity;
Latest Synthesis Technologies: combination of solid phase and liquid phase synthesis, and microwave and ligation technologies via our Flexpeptide™ Technology Platform;
Comprehensive Modifications: more than 300 modifications ranging from phosphorylation, methylation, acetylation, and amidation to stable isotope labeling and conjugations. See complete modifications list;
Guaranteed Quality: enabled by our TQM Quality Platform, which includes MS and HPLC analyses performed after the completion of synthesis, purification, and QC (Quality Control) steps. These analyses are followed by independent QA (Quality Assurance) procedures, which double guarantees the highest quality possible for every delivered peptide;
Dependable Technical Support: 24/7 access to Ph.D.-level technical account managers and online resources to support our customers from the beginning to the end of their peptide-based research.
Free Upgrade! Receive Custom Peptides From Just 5 Days*!
Recent advances in peptide synthesis technology have allowed us to upgrade our Custom Peptide Synthesis Service to Express for faster delivery. With no additional cost, eligible sequences will be delivered with Express Peptide in as fast as 5 days. To get an instant quote, use our secured online quote request system or email us at peptide@genscript.com.
Advantages

*There will be additional charge for Rush and Fast service.
**Turnaround times are for standard sequences. Difficult sequences, or sequences with multiple modifications, may require additional time.
Peptide Synthesis Technology
GenScript's peptide synthesis technology, FlexPeptide™, increases chemical coupling efficiency and shortens coupling time, which allows us to offer economical peptides. The FlexPeptide™ technology platform combines the following technologies:
1. High Success Rate: GenScript surpasses many of its competitors in the rate of successful peptide synthesis. Our success rate for custom peptide synthesis is more than 95%, far higher than industry's general success rate 75%.
2. Microwave Technology: GenScript has applied microwave technology to its peptide-manufacturing pipeline. This technology increases chemical coupling efficiency and contributes to our high success rate of peptide synthesis.
3. Free Peptide Antigen Design: GenScript's proprietary OptimumAntigen™ design tool combines the industry's most advanced algorithms with GenScript's time-tested expertise. It helps researchers to have protein sequences analyzed to select the best peptides for antibody production.
4. Secure Instant Online Quotations and Easy Online Ordering: GenScript is the first company to offer a secure instant online quotation system for custom peptide synthesis. GenScript also provides a secure and convenient online ordering system for easy accesses to project status tracking and data reports and our other products and services. Both systems have been well received in the community.
5. Competitive Prices: Our peptide synthesis service starts as low as $3.2/AA. Every item in our peptide synthesis service repertoire is at least 20% less expensive than its counterpart from our competitors. In the European market, this figure rises to 30% less expensive.
6. Fast Turnaround Time: GenScript performs all tasks in-house. Our typical turnaround time is 3-4 weeks, though this may vary depending on the size and complexity of the project.
7. Convenient aliquoting on your demand: Conveniently packaging as little as 0.2 mg/vial allows researchers to use the amount of peptides as needed each time. The extra aliquots have better stability and can be used to test the solubility for your pilot experiment. This prevents unnecessary freeze-thaw cycles, water absorption and loss of reagent from self-allocating.
8. Total Quality Management (TQM) System for Peptide Services

Liquid Phase Peptide Synthesis (LPPS) for shorter peptides, or Large-Scale Solid Phase Peptide Synthesis (SPPS) suited for longer, more complex sequences.
Microwave technologies that increase reaction rate and improve peptide yield.
Proprietary ligation technology that allows for the joining of peptides of up to 200 amino acids.
Pricing Information for Peptides
Peptides are competitively priced, starting at $3.20/AA. Modifications, purified peptides, or difficult peptides may incur additional costs. Discounts are available for large-scale peptide synthesis orders.
An additional fee applies to Express Peptide Synthesis Services.
Delivery Specifications
Every step of peptide synthesis is subject to GenScript's stringent quality control. Typical delivery specifications include:
Lyophilized peptide of the required sequence, purity, and quantity aliquoted into # of vials specified by customer.
QC reports including MS spectra, HPLC chromatograms, and COA documents.
Typical turnaround time of 2-3 weeks.
How to download your reports
For all QC, COA and solubility test reports, you can view your documents by visiting your My Account page:

TFA Removal Service
TFA is often used in the final cleavage of custom peptides from the solid support after solid phase synthesis. Hence, TFA may be left behind in the final peptide preparation, even after purification. Trace amounts of TFA can cause cytotoxicity in cell culture assays.
More about TFA Removal for Peptides
Solubility Testing
Hydrophobic peptides are often insoluble or have a propensity to aggregate. Using improper conditions for dissolution of these peptides can result in the loss of peptides.
More about Solubility Testing for Peptides
Peptide Content Analysis
Custom peptides are delivered as a gross peptide preparation consisting of a mixture of the target peptide, peptidic impurities, counter ions, and water. A peptide content analysis determines the precise amount of target peptide in the gross peptide preparation. Exact quantification of your peptide can increase experimental accuracy and consistency between different batches of peptide.
More about Peptide Content Analysis
Complimentary ArgonShield™ packaging
Peptides containing Cys, Trp, or Met are susceptible to oxidation, while peptides with multiple charged residues (e.g. Asp, Glu, Lys, Arg or His) are at risk for deliquescence. To protect the activity of your custom peptides, all synthesized peptides are sealed in argon gas-filled vials to prevent oxidization and deliquescence, at no cost to you.
Complimentary aliquoting service
Repeated freeze-thaw cycles can damage your custom peptides. GenScript provides aliquoting services (free for the first 5 vials) for all customer peptide orders.
Monoclonal and polyclonal antibody production
Identification/synthesis of posttranslational modifications
Enzyme specificity and enzymatic mechanisms
Biological effects of defined peptides
Blocking and competition assays of proteases
Non-quantitative enzyme-substrate studies
Structure, dynamics, and folding of peptides and proteins via NMR

New techniques for separation by chromatography/electrophoresis
Antibody-antigen interactions
Immunization and quantitative receptor-ligand interactions
ELISA standards for measuring titers of antibodies
Non-quantitative peptide blocking studies
Epitope mapping
Customer Publications
Since 2004, GenScript's Peptide Synthesis Services have helped thousands of scientists publish their research in peer-reviewed journals like Science, Nature, Cell, and PNAS.
- 1300+ peer-reviewed publications
- Thousands of scientists
- 150,000+ peptides

Learn More
Customer Testimonials
"I have been using the peptides from your company since 2004. The high quality standard and competitive price of your company will keep us hooked, hopefully for the years to come."
— Dr. Miguel Morales, Universidad de Barcelona, Spain
"Although I order infrequently I do appreciate the customer service, approx 2-week turnaround time, and rapid delivery to my location. Price is average or slightly lower than average. I have had opportunities to order from other companies at discounts but do not due to concerns about quality. I can depend on GenScript quality."
— Dr. Steven Applequist, Karolinska University Hospital, Sweden
Quotations and Ordering
For quotations, please use our Secure Instant Online Quotation/Order system. However, you may also contact us by email, phone (1-732-885-9188), fax (1-732-210-0262), or via our Secure Messaging System.
Please use our online ordering system and either a PO (Purchase Order) or credit card to receive GenScript's fastest service. For batch order, please download and complete Peptide Batch Order Form and email it to peptide@genscript.com.
We accept POs and major credit cards (). A 7% New Jersey sales tax will be applied to orders shipped to New Jersey. Your credit card will be billed under "GenScript" Click here to download our credit reference form. For international orders, we must apply the full charge at the time the order is placed. In the unlikely event that any given order cannot be filled, our guarantee will take the form of a full refund.
Our customer service representatives are available 24 hours, Monday through Friday to assist you.