Impact of TFA - A Review
What is the upper limit content and impact of TFA on your research?
In Fmoc-protected strategy, trifluoroacetic acid (TFA) is used to cleave the peptide from the resin support, and is added in the mobile phase for a better separation in purification. But TFA residues in the custom peptides may cause unpredictable fluctuations in the experimental data. The upper limit of TFA concentration varies in different researches. Check the blog to find the acceptable upper limit of TFA concentration on your experiment.
Want to learn more about impact of TFA in peptide?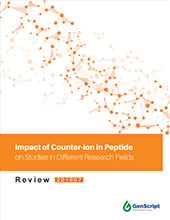 Impact of TFA in peptide on researches of
Cell Growth
Immunogen
Animal models
Biological properties
Spectrum study
We are the #1 peptide service vendor with our proprietary PepPower™ platform that can deliver peptides in as fast as 5 days at 100% guaranteed maximum quantity.
Our high-quality peptide service: