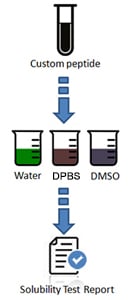 Qualitative solubility test Free
Your peptide sequence's characteristics are evaluated, and a customized solubility testing approach is designed.
Up to 3 of 6 solvents can be selected, default solvents are Ultrapure water, 1 x DPBS(pH 7.1±0.1) and DMSO.
General solubility property will be obtained (such as "soluble", "insoluble").
Quantitative solubility test New
The solvent used for solubility test can be customized. .
You will received a customized solubility test report containing the specific concentration of your peptide in each of the tested solvents.
If the peptide doesn't dissolved well in your customized solvents, we will offer another soluble protocol for free.