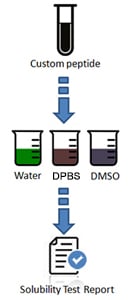 Solubility Testing Process and Deliverables
Your peptide sequence's characteristics are evaluated, and a customized solubility testing approach is designed.
Your peptide is dissolved systematically in lab solvents that are most likely to yield the highest gross peptide concentration.
You will received a customized solubility test report containing the concentration of your peptide in each of the tested solvents.
View your solubility test results any time by logging into your Account page.