Peptide Solubility Guidelines
How to dissolve your peptide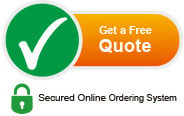 Proper peptide solubilization is one of the most important factors in a successful peptide assay. Improper peptide solubilization results in inaccurate peptide concentration calculations, which can introduce experimental error into data or result in experimental failure. However, finding the ideal solvent to dissolve your peptide is often a challenge. Download our Peptide Solubility Guidelines to determine the best solvent for maximum solubility of your custom peptide.
Free Solubility Test service will help you save your peptide sample up to 5 mg!
Click on the bubbles that correspond to the overall charge of your peptide for guidance on how to dissolve your peptide. or Request a solubility test when you request a quote for your custom peptide (by typing 'solubility test' in the comments box) and let us make peptide solubilization easy for you.
DISSOLVING INSTRUCTIONS
Flowchart for Dissolving Peptides: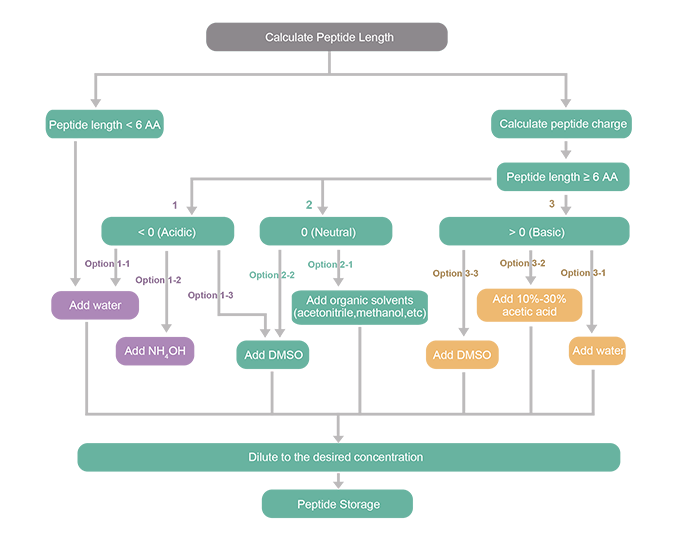 Note:
It is recommended that the concentration of the stock solution be around 1-2 mg of peptide per mL of solution. This is dilute enough so that relatively small volumes (< 100 μL ) of peptide can be used in an assay, minimizing the effect of the solvents initially used for solubilization.
The stability of each peptide depends on its sequence information. We suggest storing lyophilized peptides at -20 °C. Once in solution we recommend that you aliquot your peptide into tubes and store at -20 °C(or preferably −80°C). It is recommended that peptides containing methionine, cysteine, or tryptophan residues be stored in an oxygen-free atmosphere to avoid oxidation.
Quotations and Ordering
For quotations, please use our Secure Instant Online Quotation/Order system. However, you may also contact us by email, phone (1-732-885-9188), fax (1-732-210-0262), or via our Secure Messaging System.
Please use our online ordering system and either a PO (Purchase Order) or credit card to receive GenScript's fastest service. For batch order, please download and complete Standard Peptide Batch Order Form and email it to peptide@genscript.com. Our customer service representatives are available 24 hours, Monday through Friday to assist you.
We accept POs and major credit cards (). A 7% New Jersey sales tax will be applied to orders shipped to New Jersey. Your credit card will be billed under "GenScript" Click here to download our credit reference form. For international orders, we must apply the full charge at the time the order is placed. In the unlikely event that any given order cannot be filled, our guarantee will take the form of a full refund.