Beta Amyloid Peptides
Beta-amyloid is a peptide that forms amyloid plaques in the brains of Alzheimer's disease (AD) patients. Beta amyloid peptide consists of 43 amino acids. It is created via the enzymatic digestion of amyloid precursor protein (APP) by beta secretase and gamma secretase. It then forms insoluble fibrous aggregates, causing amyloidosis and neurodegenerative diseases such as AD. Due to beta amyloid's involvement in the pathogenic process of AD, it has become one of the most investigated molecules in AD research projects.
GenScript's FlexPeptide™ peptide synthesis platform allows us to synthesize a comprehensive array of human and rat beta amyloid peptide fragments covering stretches of its amino acid sequence. This can ease the process of elucidating the potential biological interactions of each specific fragment. GenScript's philosophy of continuous improvement and dedication to a cure for AD and other diseases can make us a valuable partner in your mission.

Case study I: β-Amyloid (1-40)
Sequence: Asp - Ala - Glu - Phe - Arg - His - Asp -... ... ...- Leu - Met - Val - Gly - Gly - Val - Val
Length: 40 aa
Purity: 94.80%
HPLC results: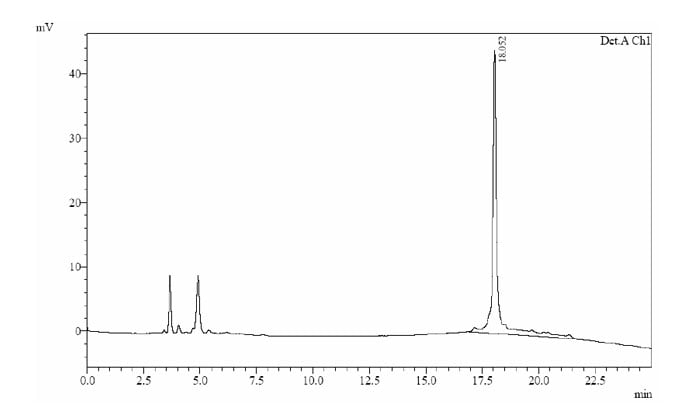 MS results: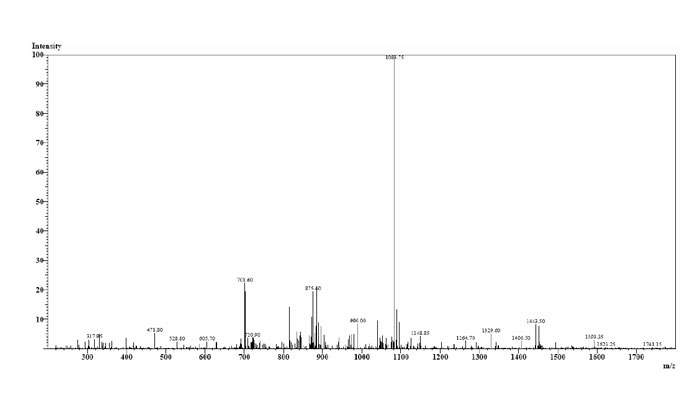 Case study II: β-Amyloid (1-42), Human
Sequence: Asp - Ala - Glu - Phe - Arg - His - Asp -... ... ... - Gly - Gly - Val - Val - Ile - Ala
Length: 42 aa
Purity: 93.81%
HPLC results: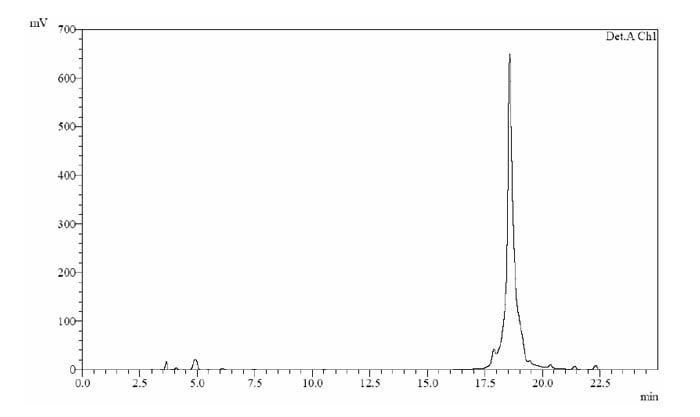 MS results: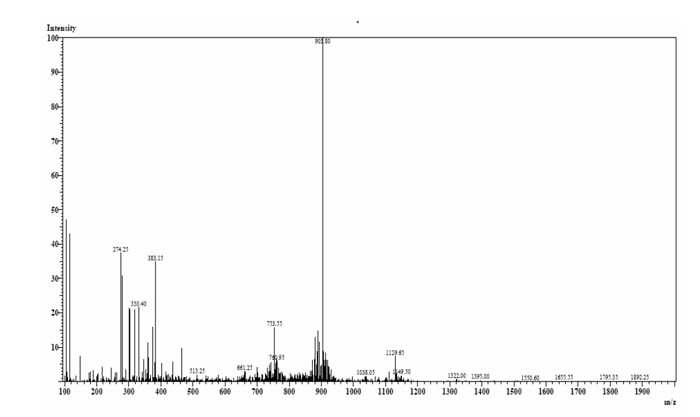 Case study III: β-Amyloid (25-35)
Sequence: Gly - Ser - Asn - Lys - Gly - Ala - Ile - Ile - Gly - Leu - Met
Length: 11 aa
Purity: crude
HPLC results: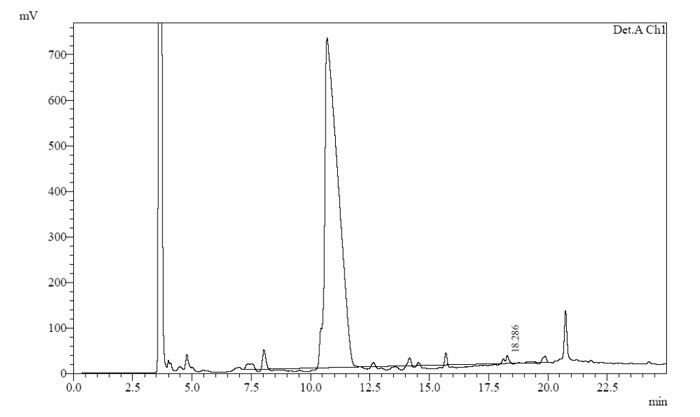 MS results: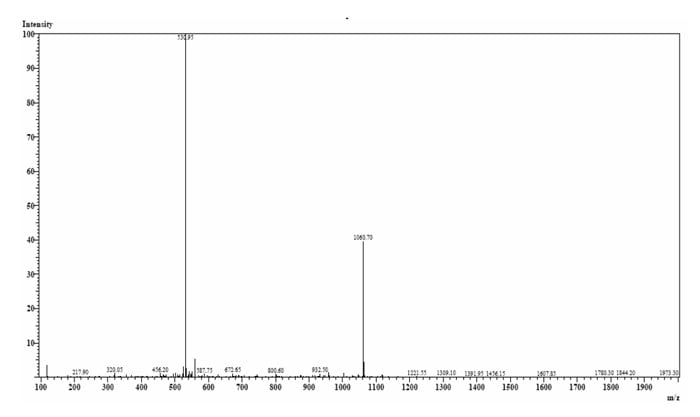 Related Neuroscience Antibodies:
GenScript offers a wide range of tools, including pan and phospho-specific antibodies and proteins geared toward different areas of neuroscientific research. We have a comprehensive collection of antibodies targeting Parkinson's disease, amyotrophic lateral sclerosis, Huntington's disease and other neurological diseases.
Key Features:
Unique Collection: We offer both of phospho-specific antibodies and their non-phospho counterparts.
Full Coverage: Our products cover several neurological disease pathways.
Multiple Applications: Western Blotting (WB), Immunoprecipitation (IP), Immunohistochemistry (IHC), ELISA, etc.
Convenience: We offer MiniFresh® trial size antibodies available in small packages at minimal cost.
Other Related Products & Services:
THE™ Elite Antibodies:

THE™ stands for THE unmistakable, THE irreplaceable, and THE best quality in the industry. GenScript is proud to present THE™ Elite Antibody series, the most precise and effective antibodies in the market, meeting requirements of even the strictest research.

Amino Acids Derivatives: Speciality & high quality amino acids for peptide synthesis

H1N1 Antibodies:

High quality antibodies can be readily employed in the detection of influenza A virus (H1N1) through routine immunoassays.

Blocking Peptides:

GenScript provides blocking peptides for most of our antibodies. These peptides can be used to identify antibody's specific interaction with target antigen, as opposed to non-specific binding.

ONE-HOUR Western™ Kits:

The ONE-HOUR Western™ Kits are a series of new products that cut the total procedure time of a Western or dot blot from 4.5 hours to ONE hour with no loss in sensitivity. GenScript's scientists are continuously searching for ways to improve technology and reduce costs. Recently we upgraded to 2

nd

generation ONE-HOUR Western technology to give you even higher sensitivity and lower background of your Westerns in ONE hour.

Standard Peptide Synthesis: Our custom peptide synthesis services have a success rate of over 95%. We offer instant online quotations and some of the best prices around.

Peptide Modification: We offer a comprehensive collection of peptide modification options including but not limited in phosphorylation, MAP, KLH, BSA, and ovalbumin. Our prices are the most competitive in the industry.
Custom Peptide Libary Services: We have a rapid high-throughput parallel platform, providing custom libraries at very competitive prices. Delivery is guaranteed.
Custom Antibody Services: Reliable immunological assays demand reliable antibodies. GenScript provides a one-stop solution to all our customers' antibody needs.
Hye-Jung Kim, Cha-Gyun Jung, Mark A. Jensen, Danuta Dukala, and Betty Soliven. Targeting of Myelin Protein Zero in a Spontaneous Autoimmune Polyneuropathy. J. Immunol. Dec 2008; 181(12): 8753 - 8760


Chulbul M. Ahmed, Rea Dabelic, Lilian W. Waiboci, Lindsey D. Jager, Linda L. Heron, and Howard M. Johnson. SOCS-1 Mimetics Protect Mice Against Lethal Poxvirus Infection: Identification of a Novel Endogenous Antiviral System. J. Virol. Nov 2008


Alexander Litovchick and Jack W. Szostak. Selection of cyclic peptide aptamers to HCV IRES RNA using mRNA display. PNAS. Oct 2008; 105(40): 15293 - 15298


Jung-Hye Choi, Joon T. Park, Ben Davidson, Patrice J. Morin, Ie-Ming Shih, and Tian-Li Wang. Jagged-1 and Notch3 Juxtacrine Loop Regulates Ovarian Tumor Growth and Adhesion. Cancer Res. Jul 2008; 68(14): 5716 - 5723


John M. Stafford, Fang Yu, Richard Printz, Alyssa H. Hasty, Larry L. Swift, and Kevin D. Niswender. Central Nervous System Neuropeptide Y Signaling Modulates VLDL Triglyceride Secretion. Diabetes. Jun 2008: 1482 - 1490


Oliver Soehnlein, Alma Zernecke, Einar E Eriksson, Antonio Gigliotti Rothfuchs, Christine T Pham, Heiko Herwald, Kiril Bidzhekov, Martin E Rottenberg, Christian Weber, and Lennart Lindbom. Neutrophil secretion products pave the way for inflammatory monocytes. Blood. Aug 2008; 112(4): 1461 - 1471