Abstract:
HCC is a major cause of cancer-related death in the world and the current available treatments are effective only at an early stage. For advanced HCC the only approved therapy is Sorafenib (a multi kinase inhibitor) which has low response rate (about 3%). New immunotherapies for HCC, like anti- PD-1 treatment, can achieve a higher response rate, but still in only a minority of patients (20%). To boost this rate, it is critical to guide the immune response towards relevant antigens expressed by all tumor cells. Genome-wide sequencing of HCC showed presence of mutations that theoretically could give rise to neoantigen-specific T cell responses. However, the presence of these immune responses has not been investigated yet. Our approach is to focus on mutations that are expressed on all cancer cells, like mutations in driver oncogenes. The central goal is to identify neoantigens in HCC and evaluate the presence of an immunological response to HCC- specific neoantigens with particular attention to hot-spot mutations in driver oncogenes.
In this webinar, we will cover:
Background on Hepatocellular Carcinoma and how the liver microenvironment affects the immune cells
Relevant examples of successful/promising immunotherapies in hepatocellular carcinoma patients (cytokines, mAbs, TILs, CARs)
Our hypothesis: successful immunotherapy depends on targeting the relevant antigens
Our screening model: focus on specific genes that are clinically relevant for the tumor progression and identify T cell receptors able to recognize neoantigens within those genes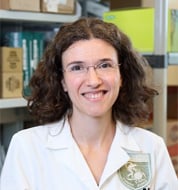 Speaker: Anna Pasetto, Ph.D. Assistant Professor, Karolinska Institutet
Date: April 10th, 2019
Time: 9:00-9:45 AM EST, 2:00 – 2:45 PM EST
Presenter's Biography:
Anna Pasetto, PhD, recently joined the Karolinska Institute in Stockholm to work as assistant professor and managing director of the pre-GMP facility in the department of Laboratory Medicine. She received her Master Degree in Molecular Biotechnology in 2007 from Alma Mater Studiorum Bologna University, Italy. She then moved to the Karolinska Institute where she received her PhD in Immunology in 2012. Dr. Pasetto joined the laboratory of Dr. Steven Rosenberg at the National Cancer Institute, NIH in 2013 and her research was focused on the isolation of TCR genes from mutation-reactive tumor infiltrating lymphocytes in metastatic solid cancers.
Related Services