CRISPR/Cas9 is an easy and efficient tool to study gene function in cells. However, generation of CRISPR-mediated gene knock-in or knock-out cell line involves substantial workload, especially for hard-to-transfect cell lines. A wise design of gRNA/donor template is necessary for generating functional gene KO/KI and improve editing efficiency.
In this webinar, we will cover:
The general workflow for generating CRISPR KO/KI Cell Lines.
Tips for designing effective gRNAs and donor templates.
Practical tips for improving CRISPR KO/KI efficiency.


Speaker: Dr. Shawn Zhou, Senior Scientist, GenScript USA Inc.
Date: Oct. 10th, 2018
Time: 11:00-12:00 PM EST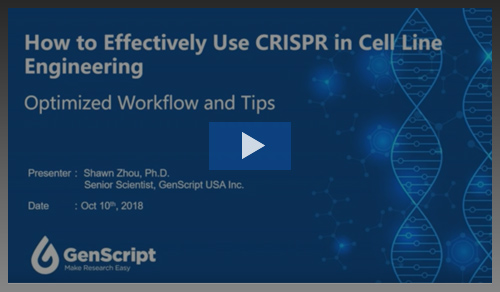 View Webinar Download PPT Slides
Speaker Bio

Dr. Zhou obtained his Ph.D degree in Molecular Biology and Genetics from Chinese Academy of Science (CAS) in 2012, focused on studying the mechanism of how steroid hormone regulates IIS-TORC1 signaling in insect fat body, using molecular and genetics tools and techniques, including DNA cloning, gene overexpression and RNAi, and Drosophila genetic manipulation. Dr. Zhou then did two years of postdoc training in BioMedical Engineering at Tufts University, using molecular method to engineer recombinant spider silk to facilitate osteogenesis in vitro. Since 2014, Dr. Zhou works as a senior scientist at GenScript, and he has established a CRISPR-based genome editing cell line engineering platform, with which he has delivered 500+ CRISPR cell lines. Dr. Zhou has plenty of hands-on experience on CRISPR design.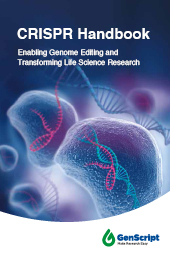 CRISPR Handbook
A concise resource with workflows and protocols to jump-start your CRISPR research.
Free Download