Therapeutic Antibodies Advancing Toward Approval for Clinical Use
Based on this year's "Antibodies to Watch in 2022" report, an unprecedented number of antibody therapies (~115 candidates) are currently in the late stages of clinical evaluation. Of these, a large proportion of candidates are being evaluated for cancer and immune-related indications (Kaplon et al. 2022). Additionally, in tune with the ongoing pandemic, a substantial number of therapeutic antibodies for COVID-19 continue to progress through late-stage clinical studies. These include antibodies that directly target SARS-CoV-2 antigens (e.g., Adintrevimab and Upanovimab), interact with cellular receptors blocking viral entry (e.g., Meplazumab-humanized anti-CD147 monoclonal antibody), and alleviate COVID-19 associated complications, such as the cytokine release syndrome or cytokine storm (e.g., Lenzilumab).
Early Therapeutic Antibody Approvals
By the end of 2021, about 17 antibody drugs were undergoing regulatory reviews in the USA, and just at the start of 2022, three new therapeutic antibodies secured FDA approval. First, in January, the bispecific antibody, Tebentafusp, was approved in the USA for metastatic melanoma. Tebentafusp targets gp100 melanoma-associated antigen and engages T cells for tumor cell killing by binding to their CD3 receptor. Soon after, still in January, the FDA's approval of Faricimab, a bispecific antibody for a non-cancer indication, represents the first of its kind. Faricimab was developed by Roche to recognize VEGF-A and angiopoietin-2, which together contribute to vision loss by promoting leaky vessels, vascular destabilization, and inflammation. The FDA has approved Faricimab for macular degeneration and diabetic-associated macular oedema. Lastly, in February, Sutimlimab was approved for hemolysis associated with cold agglutinin disease (CAD). Sutimlimab is a humanized monoclonal antibody that targets the complement serine protease C1s and inhibits activation of the classical complement cascade, therefore preventing normal red blood cell lysis.
Other antibody drug candidates expected to receive approval early in 2022 include Relatlimab and Ublituximab, indicated for melanoma and multiple sclerosis, respectively (Kaplon et al. 2022). In addition, approval for the use of Sintilimab, an immune checkpoint inhibitor (i.e., anti-Programmed cell death protein 1 or PD-1), in combination with pemetrexed and platinum chemotherapy as a first-line treatment of patients with nonsquamous non–small cell lung cancer (NSCLC) was expected early in 2022. Nevertheless, the FDA recently rejected its approval pending findings from additional USA-based clinical studies.
Antibody Drugs Under FDA Review
| Antibody Drug | Antibody Type | Sponsor/Company | Antibody Target | Disease |
| --- | --- | --- | --- | --- |
| Oportuzumab monatox | Humanized scFv immunotoxin | Viventia Bio | EpCAM | Bladder cancer |
| Penpulimab | Humanized IgG1 | Akeso Tiancheng, Inc | PD-1 | Metastatic nasopharyngeal carcinoma |
| Relatlimab | Human IgG4 | Bristol-Myers Squibb | Lymphocyte-activation gene 3 (LAG 3) | Melanoma |
| Retifanlimab | Humanized IgG4 | Incyte Corporation | PD-1 | Carcinoma of the anal canal |
| Tislelizumab | Humanized IgG4 | BeiGene | PD-1 | Esophageal squamous cell carcinoma |
| Toripalimab | Humanized IgG4 | Shanghai Junshi Bioscience Co., Ltd. | PD-1 | Nasopharyngeal carcinoma |
| Donanemab | Humanized IgG1 | Eli Lilly and Company | Amyloid beta | Alzheimer's disease |
| Inolimomab | Murine IgG1 | ElsaLys Biotech | CD25 | Acute graft-vs-host disease |
| Lecanemab | Humanized IgG1 | Biogen | Amyloid beta protofibrils | Alzheimer's disease |
| Narsoplimab | Human IgG4 | Omeros Corporation | MASP-2 | Thrombotic Microangiopathies |
| Teplizumab | Humanized IgG1 | National Institute of Diabetes and Digestive and Kidney Diseases (NIDDK) | CD3 | Type I Diabetes Prevention |
| Ublituximab | Chimeric IgG1 | TG Therapeutics | CD20 | Multiple sclerosis |
Adapted from "Kaplon et al. 2022" (http://creativecommons.org/licenses/by-nc/4.0/)
During the first few months of 2022, these approvals are only the beginning of a wave of new antibody drugs that may reach the clinic this year. Considering the large number of antibody drug candidates currently in late-stage clinical evaluation, 2022 is shaping to be a promising year for antibody therapies (Kaplon et al. 2022).
Bispecific Antibody Candidates In Late-stage Clinical Evaluation
Antibody therapies for cancer indications currently represent the largest group undergoing late-stage clinical evaluation. Roughly 30% of these candidates have dual specificity, targeting both tumor-associated antigens (TAA) and immune targets. T cell engagers for hematologic malignancies, designed to target the tumor-associated antigen CD20 represent a predominant modality (e.g., Epcoritamab, Mosunetuzumab, Odronextamab, and Glofitamab) (Kaplon et al. 2022).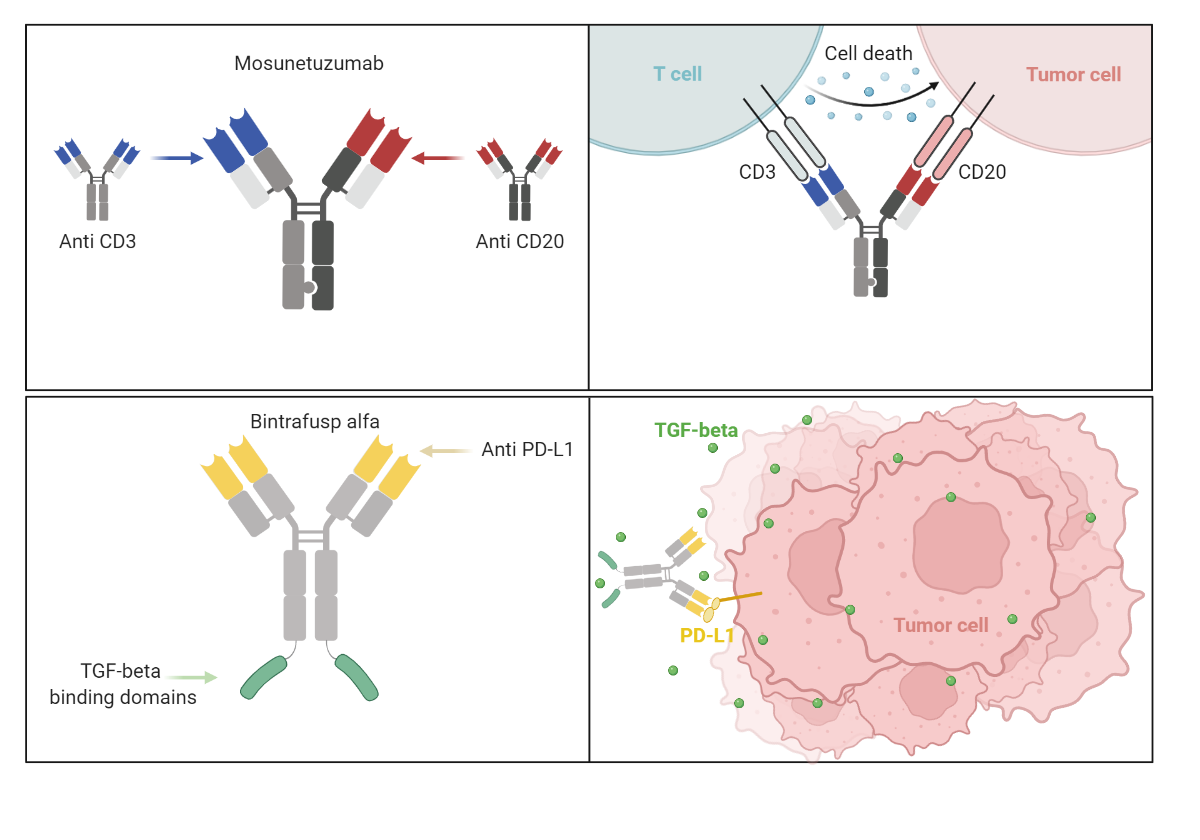 Bispecific Antibody Mechanisms: Mosunetuzumab, an immune effector cell redirector, is designed to target CD3 and CD20, where the CD20 targeting is achieved through the full-length domain of the antibody Fc domain. Bintrafusp alfa, a dual immunomodulator, has an IgG1 backbone targeting PD-L1 fused through peptide linkers to two TGF-beta receptor II extracellular domains. Adapted from "Bispecific Antibody Design" by BioRender.com (2022). Retrieved from; https://app.biorender.com/biorender-templates
Other bispecific modalities being tested are designed to bind different immunosuppressive targets in the tumor microenvironment. For example, the bispecific antibody candidate Bintrafusp alfa targets the tumor through its interaction with PD-L1 and serves as a trap for TGF-beta within the tumor microenvironment. Preclinical findings have demonstrated that Bintrafusp alfa, through its combined inhibition of immunosuppressive pathways, effectively increases NK and T cell antitumor activity and reduces Treg mediated immune suppression as well as tumor cell plasticity (Lind et al. 2019). Bintrafusp alfa is currently undergoing Phase 3 evaluation for lung cancer.
Lastly, for non-cancer indications, only one bispecific antibody is currently undergoing late-stage clinical evaluation. Mim8, an FVIIIa mimetic, targets coagulation factors FIXa and FX. Developed by Novo Nordisk, Mim8 is being evaluated as a therapy to prevent bleeding episodes in Hemophilia A patients (Ostergaard et al. 2021).
Reference
Kaplon, H., Chenoweth, A., Crescioli, S., & Reichert, J. M. (2022). Antibodies to watch in 2022. mAbs, 14(1), 2014296. https://doi.org/10.1080/19420862.2021.2014296
Lind, H. et al. Dual targeting of TGF-β and PD-L1 via a bifunctional anti-PD-L1/TGF-βRII agent: Status of preclinical and clinical advances. Journal for ImmunoTherapy of Cancer (2020) doi:10.1136/jitc-2019-000433.
Østergaard, H. et al. A factor VIIIa–mimetic bispecific antibody, Mim8, ameliorates bleeding upon severe vascular challenge in hemophilia A mice. Blood (2021) doi:10.1182/blood.2020010331.